uh oh.... Susan, with that knife in her hand - is DEFINETLY ready for fishing
altho Lup - looking very stylish in his Sebago cap,
probably isn't planning to offer her any of his "bait"

here our model shows off his Sebago boat shoes....
a good looker, eh? (the SHOES ;)

here we have the time-honored tradition of schmoozing The Judge
HIBT's Albert Threadingham, of Fiji

The Team shows off the ole Alcatel banner -
since they very generously kicked-in for the event

Randy Ward here trying to decide on his choice of lures for today's fishing


The Team, posing in front of the heiau, there in the background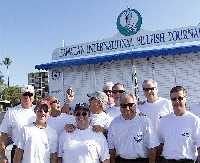 and once again.... yeah, well - it's a repeat of the other one....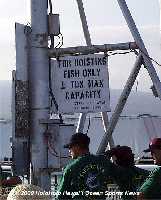 now remember Team - there's a limit on the low end AND the high end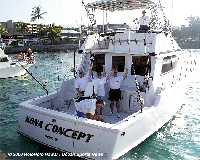 with hurricane Daniel still swirling around out there....
Old South Marlin Club Team 1 shoves off for "a 2 hour tour, a 2 hour tour"...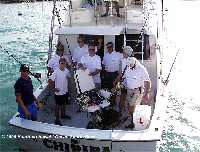 Old South Team 2 - with Lup showing off that Sebago hat again....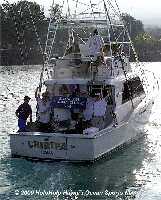 GO TEAM GO!!!!!
and save them "special lures" of yers for later....
now clik over here>>>> For MORE Billfish Bullsheet