Letter from BJ - Latitude 38 (November 1996) with permission...

As I sat becalmed in the Gulf of Panama for a week, the temptation to drop south to the dreamlands of my past was unbearable. The South Pacific - talcum powder-white beaches, turquoise water, the spectacle of lands embraced by Mother Nature - all conspired to waiver my resolve to claim the so-called age record.

It didn't help to remember another sea-farer in a long bygone age. Fletcher Christian let nothing tear him away from Tahiti and his soon-to-be wife, Mai Miti. His desperation in sailing's classic Mutiny on the Bounty could well be my own.

After all, the cruising lifestyle is what ruined me in the first place. The thought of going back south to confront the virus drove me to near insanity as I sat out day after day on a windless sea.

When the breeze finally filled in after a week, with it came a return of my resolve. I realized once again my obligations to those who had made the dream possible - and my desire to one day win the Vendee Globe Challenge.

For weeks, Mai (Miti) tore down the predominately southwesterly headwinds between Balboa and the Galapagos Islands. The poor gal was submerged so much of the time that bottom growth appeared over the decks and cabin top. With the headwind, unfavorable current and short chop, progress was little more than a snail crawl. I took advantage of the time by reading, writing my book and enjoying the solitude in general.

Gradually, the wind bore around to a slightly better angle and we began making westing. As I passed nearly 200 miles north of the Galapagos, the mist and fog from the cold Humboldt Current began to dissipate.

For one three-day period, I had a booby bird living on the bow pulpit. The scruffy-looking beast would spend the better part of his day preening, and only fish in the last few hours before sunset. Because we were pounding to weather, he had a hard time staying secure on his bucking perch. Once every few waves, he'd be thrown into the water. He'd gather himself up and fly back, squawking up a storm at the pulpit. Once back aboard, he'd tuck his head in his feathers and try to sleep, only to be dunked by spray every few seconds, or tossed overboard again. Eventually, he finally said the hell with it and flew off to find his wife.

The original plan was to go from Panama to the Galapagos, Marquesas, and then home to Hawai`i. The parking lot in the Gulf of Panama galvanized my will to go straight through. So we ignored those other pit stops on the chart and sailed onwards.

Because it was hurricane season north of the equator, I sailed below the Inter-Tropical Convergence Zone until I got to 135° west longitude. After making a hard right turn, we cut through the ITCZ without stopping and picked up the northeast trades. Keeping a lookout for hurricanes astern, we saw the Big Island's volcano, Mauna Loa, about two weeks after entering 'hurricane alley'.

"Hi, Ala Wai. Ready or not, here we come," I radio. Coasting along north of Maui with light Kona winds, a twin-prop airplane buzzes overhead. I can't believe it, my parents are aboard! With the reluctance of a trip almost over, I manage "Hi, Mom!" over the VHF. She is pretty emotional, her answer all but incomprehensible. I did manage to understand something about "our hero . . ."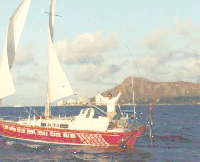 The next day, all hell broke loose off Diamond Head. Upwards of 20 boats came out to watch Mai (Miti) tie the knot. As we crossed the entrance of the Ala Wai, a cannon exploded on a friend's boat and my dream was reality.I'd crossed my outbound track. Euphoria that we'd circled the earth was mixed with sadness. The adventure was over. We weren't going sailing tomorrow.
brian 'bj' caldwell