NCAWPA Outrigger
Moloka`i A Long-sought Goal for Washington DC women
To paddle the 41 miles from Moloka`i to O`ahu has been Kirstin Bortz's dream for two years. To train a team of women capable of making such a crossing has been Dave Armstrong's vision for even longer. Together, with a group of men and women dedicated to getting more women involved in paddle sports, Bortz and Armstrong are about to realize these aspirations. Come September 24, they and nine other women from the Washington D.C. area will fly to Hawai`i for the 18th annual Bankoh Na Wahine O Ke Kai, which promises to be the canoe race of their lifetime.
They will be the only East Coast team in this all-women's outrigger canoe competition and the first team ever--male or female--fielded from Washington, D.C. Their participation in this race represents the culmination of five years work by Armstrong and the women he has coached to bring more women into traditionally male sports. Toward that goal, they have established the National Capital Area Women's Paddling Association, a non-profit, tax-exempt organization that promotes women's paddling of all kinds.
Last year, the DC women outriggers helped pioneer outrigger races along the East Coast. Although they were often the only women's team in those races, their participation has helped the sport grow--for women as well as for men. This year two key races, in New York and in Virginia Beach, had women's categories and 5 teams participating.
At its home port at the Washington Canoe Club, the National Capital Area Women's Paddling Association (NCAWPA) has trained more than 100 women in various paddling sports. The current outrigger team practices five times a week. The paddlers also work out with weights, run and do time-and distance-trials on special paddle-adapted ergometers and in one-person outrigger canoes. Those selected to race in Hawai`i had to pass rigorous time-trial requirements both on the ergometer and in the OC-1.
Washington D.C. Outrigger Team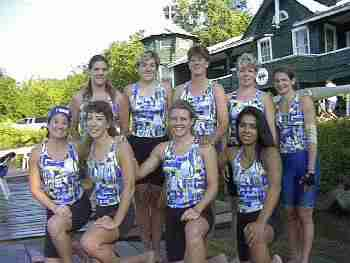 Most of the 50 or so other teams expected to compete in this six-hour race have been training on the ocean. The DC Women's Outrigger Team has spent most of its paddling hours on the Potomac River in view of the Washington Monument. The team's ocean experience comes from races, but their record indicates that their lack of wave experience has not been much of a handicap.
In the team's first race, the 1996 Braeburn Challenger in Cape Ann, Massachusetts, they were the only women's team among six outrigger crews and finished 5th. Also in 1996, they took first in the Virginia Beach/Sandbridge OC-6 (women's) and 12th in the Catalina Island Crossing in California. In 1997, NCAWPA fielded two women's teams for local East Coast Races. They took first and second in the Virginia Beach/Sandbridge OC-6, and second and fifth in the New York Liberty Cup. Also in 1997, NCAWPA purchased a Force-5 outrigger and a trailer.
For these women , the rewards extend well beyond medals. There's a sense of camaraderie and satisfaction borne of having come together and shared a common love for paddling. "We come from all walks of life, training, backgrounds, experience, and education, and we are all equal here," says Peggy Coulombe, 39. She's a biologist. Her teammates include an emergency room nurse, a plumber, engineers, a draftsperson, a writer, a theater technician, and a social worker.
Some, like Caroline Brosius, 30, are longtime paddlers and competitors. She began her paddling career at age 4, on the Columbia River in a kayak that her dad had made for an Eagle Scout project. Last year, she came in 13th in the 1996 Olympic trials in her flatwater sprint kayak. Others are relatively new to water sports. Cheryl Zook, 28, jumped into a dragon boat one Saturday only about four years ago, barely able to swim and never having handled a paddle before. What seemed like a whim then has since turned into an obsession, she says. In addition to paddling outrigger and dragon boat, she's raced in the 70-mile General Clinton marathon canoe race three years in a row, taking first in her class twice. Then there's Ilka Sampler, 31, a contender for next year's EcoChallenge, who joined just three months ago.
"To go to Moloka`i, to go through such an incredible test, with such a great group of people is way beyond anything I had envisioned when I first came down to check out the team,'' says Anne Cook, 28. "But I have confidence that if I am ever to do something like this, this is the crew to do it with!"
For more information, contact:
Colleen Eubanks - 202-544-5276
E-mail: Creubanks@mindspring.com
The NCAWPA is a Washington DC., IRS 501(c)3 tax-exempt, not-for-profit, corporation devoted to furthering canoe sport for women. (301) 421-9456 Voice. (301)421-9458 Fax. dw3mao1@erols.com E-mail