Results courtesy of Kanaka Ikaika
from Colin K. Perry via Outrigger@europa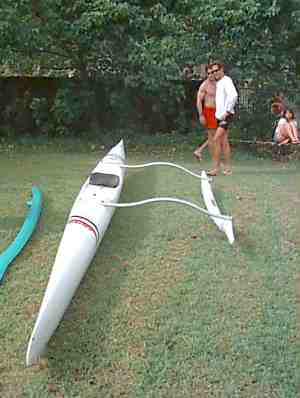 "Mark Rigg and Walt Guild inspect the new "Sniper" OC1 just before the start of the Oahu Championship Race".
Race conditions were relatively mild with east north east winds 10-12 MPH and seas 2-4 feet. A high overcast kept the temperature in the high seventies. Two new canoes made their debut. John Foti and Todd Bradley were paddling Karel's new "Viper" and Walter Guild was on his new "Sniper". Mark Rigg, the winner was on one of Tom Conner's "no names".

EVENT:  4-13-97   MAKAI PIER TO WAIKIKI Y.C. CANOE RACE - LONG COURSE

OVERALL                                               SEX          DIV
         NAME                NUMB FROM  TIME    PLACE   DIV  PLACE  PACE

1 RIGG, MARK                 1419  HI  2:26:23.0    1  M OPEN    1  8:08
2 FOTI, JOHN                 1414  HI  2:31:43.0    2  M OPEN    2  8:26
3 FOTI, JAMES                1354  HI  2:33:50.0    3  M OPEN    3  8:33
4 LUSSIAA, THIBERT           1363  HI  2:34:41.0    4  M OPEN    4  8:36
5 GUILD, WALTER              1405  HI  2:35:08.0    5  M OPEN    5  8:37
6 SETO, COURTNEY             1407  HI  2:36:37.0    6  M30-39    1  8:42
7 CONNER, TOM                1318      2:39:44.0    7  M50-90    1  8:52
8 HAINE, MARC                1406  HI  2:40:02.0    8  M30-39    2  8:53
9 BRADLEY, TODD              1415  HI  2:41:00.0    9  M30-39    3  8:57
10 VON, PATRICK              1366      2:41:08.0   10  M18-29    1  8:57
11 NAPOLEON, JOEY            1365      2:43:31.0   11  M30-39    4  9:05
12 LIPP, ALAN                1400  HI  2:43:46.0   12  M30-39    5  9:06
13 ERWIN, PATRICK            1412  HI  2:43:56.0   13  M40-49    1  9:06
14 HARRISON, ROBERT          1413  HI  2:44:04.0   14  M30-39    6  9:07
15 GRAY, RALPH               1371      2:44:10.0   15  M30-39    7  9:07
16 HEYER, KARL               1433      2:44:35.0   16  M30-39    8  9:09
17 IRVINE, KALANI            1403  HI  2:45:20.0   17  M30-39    9  9:11
18 KINCAID, CHRIS            1408  HI  2:45:32.0   18  M40-49    2  9:12
19 ALLEN, KEVIN              1388      2:45:44.0   19  M18-29    2  9:12
20 LEVORA, ERIC              1409  HI  2:46:15.0   20  M30-39   10  9:14
21 CAMUSO, GIOVANNI          1322      2:47:56.0   21  M30-39   11  9:20
22 BREWER, MARK              1418  HI  2:48:42.0   22  M40-49    3  9:22
23 CALDEIRA, CHRISTOPHER     1381      2:50:05.0   23  M30-39   12  9:27
24 KALAMA, KAMOA             1384      2:52:15.0   24  M40-49    4  9:34
25 JOHNSON, DAVID            1440      2:53:01.0   25  M40-49    5  9:37
26 POOLE, GREG               1461  HI  2:54:37.0   26  M40-49    6  9:42
27 BARRON, RON               1468      2:55:32.0   27  M40-49    7  9:45
28 ALO, JONLI                1484      2:56:12.0   28  M40-49    8  9:47
29 MCKEAGUE, ROGER           1374      2:56:42.0   29  M30-39   13  9:49
30 NAPOLEON, JOSEPH K.       1316      2:58:30.0   30  M50-90    2  9:55
31 LEANDRO, HANK             1355      2:59:00.0   31  M50-90    3  9:57
32 TRESNAK, KAREL            1452  HI  3:00:02.0   32  M40-49    9 10:00
33 WACKER, JOHN              1439      3:00:10.0   33  M30-39   14 10:01
34 TRESNAK, JR., KAREL       1444      3:03:52.0   34  M18-29    3 10:13
35 CHEE, GALEN               1379      3:06:14.0   35  M30-39   15 10:21
36 HO, BYRON                 1473      3:06:23.0   36  M30-39   16 10:21
37 HANSEN, HANS              1387      3:06:53.0   37  M40-49   10 10:23
38 AKI, HARVEY               1450  HI  3:08:17.0   38  M40-49   11 10:28
39 EDWARDS, GREG             1479      3:08:37.0   39  M18-29    4 10:29
40 WILLS, EASSIE             1453  HI  3:13:02.0   40  M40-49   12 10:43
41 LETON, RICK               1432      3:16:10.0   41  M40-49   13 10:54
42 KAWAIAEA, MARGIE          1511      3:16:38.0    1 F  OPEN    1 10:55
43 DAWSON, CHRIS             1474      3:18:23.0   42  M30-39   17 11:01
44 FRANCIS, BARRY            1482      3:23:55.0   43  M40-49   14 11:20
45 BREWER, MARY              1753  HI  3:26:30.0    2 F  OPEN    2 11:28
46 MACLEAN, JENNI            1663      3:31:24.0    3 F  OPEN    3 11:45
47 HORNER, JULIE             1657      3:33:27.0    4 F 18-29    1 11:51
48 COLBORN, SUSAN            1513      3:42:29.0    5 F 30-39    1 12:22
49 RICCIARDELLI/CONNER, CYN  1662      3:47:48.0    6 F 95-95    1 12:39

EVENT:  4-13-97   HAW.KAI TO WAIKIKI Y.C. CANOE RACE - SHORT COURSE

OVERALL                                               SEX          DIV
         NAME                NUMB FROM  TIME    PLACE   DIV  PLACE  PACE

1 PAIAINA, KEALII            1229      1:33:42.0    1  M92-92    1  9:22
2 SHERMAN, VICTOR            1221      1:33:56.0    2  M91-91    1  9:24
3 BARTLETT, KAI              1120      1:35:20.0    3  M91-91    2  9:32
4 METZGER, JEFF              1099      1:36:25.0    4  M99-99    1  9:38
5 ROMANS, RODNEY             1097      1:39:40.0    5  M99-99    2  9:58
6 NAHALEA, SEAN              1064      1:39:49.0    6  M91-91    3  9:59
7 HEWITT, JIM                1132      1:39:55.0    7  M92-92    2  9:59
8 REA, JAY                   1233      1:41:57.0    8  M92-92    3 10:12
9 RIGG, MATTHEW              1248      1:42:10.0    9  M99-99    3 10:13
10 LEELOY, LAMBERT           1246      1:43:26.0   10  M99-99    4 10:21
11 MANN, ROBERT              1249      1:43:52.0   11  M92-92    4 10:23
12 FERNANDEZ, RANDY          1245      1:44:12.0   12  M99-99    5 10:25
13 FETTERS, ROB              1228      1:46:51.0   13  M91-91    4 10:41
14 NISHIMURA, ALVIN          1128      1:46:57.0   14  M92-92    5 10:42
15 NAHINU, HERB              1050      1:49:12.0   15  M91-91    5 10:55
16 BALIDOY, REGINALD         1247      1:49:33.0   16  M99-99    6 10:57
17 SCHUBERT, RAY             1244      1:49:38.0   17  M92-92    6 10:58
18 LUM/LUM, PETER/WARREN     1219      1:51:16.0   18  M92-92    7 11:08
19 GACUTAN, WILLIAM          1235      1:51:26.0   19  M92-92    8 11:09
20 PAGUYO, RODDY             1224      1:52:40.0   20  M92-92    9 11:16
21 CANTU, ELIAS              1065      1:52:42.0   21  M91-91    6 11:16
22 CRABB, PAULA              1026      1:53:17.0    1 F 99-99    1 11:20
23 AUNA, NOAH                1225      1:53:38.0   22  M92-92   10 11:22
24 CHUNG, EDWARD             1130      1:53:56.0   23  M92-92   11 11:24
25 THURSTON, BOB             1149      1:54:07.0   24  M92-92   12 11:25
26 SANGIULIANO, JUDITH       1142      1:55:22.0    2 F 99-99    2 11:32
27 SMITH, RACHAEL            1146  HI  1:55:27.0    3 F 99-99    3 11:33
28 DEWEY, ANN                1144      1:56:07.0    4 F 92-92    1 11:37
29 SCOTT, TOAD               1213      1:57:01.0   25  M92-92   13 11:42
30 DROWN, ROBERT             1126      1:57:34.0   26  M92-92   14 11:45
31 BETTIS, CHRIS             1201      1:57:48.0   27  M92-92   15 11:47
32 MOORE, GREG               1110      1:58:13.0   28  M92-92   16 11:49
33 MCPHAIL, SCOTT            1232      1:58:20.0   29  M92-92   17 11:50
34 WILLETT, MICHAEL          1051      1:59:34.0   30  M91-91    7 11:57
35 ORGELES, CANDIDO          1079      1:59:40.0   31  M99-99    7 11:58
36 SCOTT-HOSAKA, STEVE       1204      2:00:17.0   32  M92-92   18 12:02
37 ENRIQUES, RANDY           1226      2:00:36.0   33  M91-91    8 12:04
38 HOPPER, HEATHER           1043      2:01:38.0    5 F 92-92    2 12:10
39 BRYAN, JON                1078      2:01:52.0   34  M99-99    8 12:11
40 ARMSTRONG, MARY JENNIFER  1139      2:02:28.0    6 F 92-92    3 12:15
41 GIL, DINORA               1032      2:02:34.0    7 F 91-91    1 12:15
42 GARDNER, SHERVELLE        1014      2:02:51.0    8 F 91-91    2 12:17
43 HAWKINS, CURTIS           1124      2:04:50.0   35  M92-92   19 12:29
44 STONE, JAMES              1210      2:04:55.0   36  M92-92   20 12:29
45 BROAD, SHERI              1135      2:05:21.0    9 F 92-92    4 12:32
46 BOUTHILLIER, KATIE        1148      2:05:35.0   10 F 99-99    4 12:33
47 CAMPBELL, GLORIA          1150      2:05:53.0   11 F 92-92    5 12:35
48 ZIMMERMAN, JEFFREY        1212      2:07:11.0   37  M92-92   21 12:43
49 OBATAY, ANTHONY           1131      2:07:52.0   38  M92-92   22 12:47
50 BROWN, SUSAN              1162      2:09:56.0   12 F 92-92    6 12:59
51 BUELL, MARY JO            1011      2:11:52.0   13 F 91-91    3 13:11
52 KERN, ROGERSON            1133      2:12:43.0   39  M92-92   23 13:16
53 FREY, MARTIN              1063      2:13:05.0   40  M91-91    9 13:18

EVENT:  4-13-97   MAKAI PIER TO WAIKIKI Y.C. KAYAK RACE - LONG COURSE

OVERALL                                               SEX          DIV
         NAME                NUMB FROM  TIME    PLACE   DIV  PLACE  PACE

1 KUKEA, NALU                 184  HI  2:10:59.0    1  M OPEN    1  7:17
2 ROBELLO, BILLY              217  HI  2:11:17.0    2  M OPEN    2  7:18
3 JONES, WYATT                208      2:14:25.0    3  M OPEN    3  7:28
4 JUDD, KALA                  211  HI  2:16:09.0    4  M OPEN    4  7:34
5 GAESSNER, STUART            159      2:16:33.0    5  M OPEN    5  7:35
6 ROSA, MARSHALL              177      2:16:38.0    6  M50-90    1  7:35
7 AKEO, HAROLD                256  HI  2:20:33.0    7  M40-49    1  7:48
8 BEATON, JAMES               219  HI  2:22:32.0    8  M30-39    1  7:55
9 BUCK, DAVID                 162      2:24:23.0    9  M18-29    1  8:01
10. MONAHAN, SEAN             168      2:24:47.0   10  M18-29    2  8:03
11 HIGGINS, MATHEW            259  HI  2:29:14.0   11  M40-49    2  8:17
12 GILLILAND, MARK            178      2:30:52.0   12  M30-39    2  8:23
13 HOOGSTEDEN, JOHN           206  HI  2:30:58.0   13  M30-39    3  8:23
14 KINCAID, JAMES             268  HI  2:31:57.0   14  M40-49    3  8:26
15 TWIGG-SMITH, TIM           169      2:32:48.0   15  M30-39    4  8:29
16 HORNER, EDDIE              213  HI  2:33:27.0   16  M30-39    5  8:31
17 MOWAT, BILL                313      2:33:47.0   17  M50-90    2  8:33
18 FEY, KELLY                 700  HI  2:34:25.0    1 F  OPEN    1  8:35
19 GERMAN, WAYNE              250  HI  2:37:31.0   18  M40-49    4  8:45
20 SAKAI, MILES               415      2:40:35.0   19  M30-39    6  8:55
21 CHING, CARLTON             167      2:41:43.0   20  M30-39    7  8:59
22 WILCOX, NICOLE             654      2:42:01.0    2 F  OPEN    2  9:00
23 SMOLENSKI, MARY            655      2:45:28.0    3 F  OPEN    3  9:12
24 KIEFER, KAREN              650  HI  2:48:56.0    4 F 18-29    1  9:23
25 DOLEZAL, ELIZABETH         656      2:54:04.0    5 F 30-39    1  9:40
26 DELOS SANTOS, FRED         204  HI  2:54:49.0   21  M40-49    5  9:43
27 GAFFNEY, HADLEY            669      2:57:37.0    6 F 18-29    2  9:52
28 WILCOX, GAYLORD            187      2:58:26.0   22  M50-90    3  9:55
29 MEYER, DONNA               703  HI  2:59:28.0    7 F 40-49    1  9:58
30 SAWYER, NOELANI            657      3:09:41.0    8 F 18-29    3 10:32
31 ELLS, STEPHEN              272      3:17:36.0   23  M40-49    6 10:59
32 HEDLUND, CLYDE             305  HI  3:20:21.0   24  M50-90    4 11:08

EVENT:  4-13-97   HAW.KAI TO WAIKIKI Y.C. KAYAK RACE - SHORT COURSE

OVERALL                                               SEX          DIV
         NAME                NUMB FROM  TIME    PLACE   DIV  PLACE  PACE

1 BUCK, MARK                   49      1:29:11.0    1  M99-99    1  8:55
2 VALVERDE, CLAY               30      1:33:23.0    2  M91-91    1  9:20
3 YEN, NALU                   128      1:34:55.0    3  M92-92    1  9:29
4 WORD, HOWARD                 24      1:35:25.0    4  M92-92    2  9:32
5 GUARD, TIM                   47      1:35:33.0    5  M99-99    2  9:33
6 FRISBIE, MICHELLE            73      1:36:39.0    1 F 91-91    1  9:40
7 PIETTE, MARTIN               48      1:36:51.0    6  M92-92    3  9:41
8 BUTCHER, CLAUDE             103  HI  1:38:02.0    7  M99-99    3  9:48
9 LOWE, VANESSA                61      1:42:23.0    2 F 92-92    1 10:14
10 KADALA, R. KONGOLELE       101      1:43:59.0    8  M99-99    4 10:24
11 FONG, RICHLINE              76      1:44:06.0    3 F 99-99    1 10:25
12 CUMMINGS, JEFF              45      1:45:28.0    9  M92-92    4 10:33
13 HAYASHI, LANCE              43      1:46:19.0   10  M92-92    5 10:38
14 CHIMIENTI, MAGGIE           64      1:49:19.0    4 F 92-92    2 10:56
15 WONG, KELLY                 79      1:49:21.0    5 F 91-91    2 10:56
16 CHONG, BLANE                44      1:52:05.0   11  M92-92    6 11:12
17 HODGE, BEAU                129      2:03:18.0   12  M91-91    2 12:20