Results courtesy of Kanaka Ikaika
from Walter Guild Via Outrigger@europa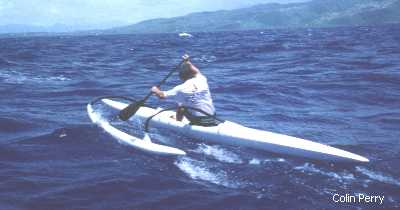 "Jim Foti on the Viper appx a mile off of Koko Head during this year's Kaiwi Challenge"


Colin Perry's description of the 1997 Kaiwi Channel Relay was spot on, as he had a front row seat to the most exciting race in this events history. As a team member of one of the teams he was with, I can tell you it felt like being in a four and a half hour heavy weight fight. The conditions were incredible with rides up a hundred yards long with the lead changing back in forth literally with each swell caught. Though the race for first was indeed spectacular, many close battles were taking place throughout the course. This years race had representatives from all over the paddling world and each one of them will have plenty to talk about if you get a chance to talk to them. I would like to offer my personal congratulations to all those who participated and thanks for helping to make this year's a smooth, safe event. The Kaiwi Channel Relay is the second in the three series team championships, with the top six teams qualifying for the 42 mile Moloka`i North Shore Classic. The series is tied at one race each between John & Jim Foti and Mark Rigg & Walter Guild, and will be decided in July on Moloka`i.

OVER ALL                     
DIV.        NAME                        TIME      PLACE         HULL

01- JOHN FOTI/JIM FOTI		        4:40:46	  OPEN MN-1	VIPER
02-MARK RIGG/WALTER GUILD	        4:41:23	  OPEN MN-2 AVENGER SNIPER
03-COURTNEY SETO/CHRIS KINCAID	        4:47:18	  OPEN MN-3	VIPER
04-TOM CONNER/MARK SANDVOLD	        4:52:32	  OPEN MN-4	CONNER
05-KALA JUDD/STEVE COLE		        4:53:32	  OPEN MN-5	CONNER
06-TODD BRADLEY/MARC HAINE		4:54:43	  OPEN MN-6
07-NALU KUKEA/ WYATT JONES		4:57:01	  OPEN MN-7
08-MIKE SMITH/ MIKE PEDERSEN	        4:57:57	  OPEN MN-8
09-ALAN LIPP/PETER BINNEY		4:59:03	  OPEN MN-9
10-KEOLA SHEEHAN/STEVE BLYTH	        5:00:31	  OPEN MN-10
11-KAMOA KALAMA/PAT ERWIN	        5:00:32	  MAST. MN 40+-1
12-GIO CAMUSO/RICH LAMBERT	        5:02:03	  OPEN MN-11
13-BOB NOTTAGE/KALANI IRVINE	        5:05:54   OPEN MN-12
14-ROB HARRISON/T. LUUISIA		5:06:06	  OPEN MN-13
15-SEAN NAHALEA/WILL HAOLE	        5:07:07	  OPEN MN-14****
16-GEORGE LESLIE/SCOTT JONES	        5:07:14	  OPEN MN-15
17-BILL PRATT/GUY PERE		        5:07:33	  OPEN MN-16
18-RAVEN AIPA/JOE NAPOLEON	        5:07:44	  OPEN MN-17
19-TIM TWIGG-SMITH/JIM BEATON	        5:09:27	  OPEN MN-18
20-DEREK VINUYA/M. KAWAIAEA	        5:09:47	  OPEN MN-19
21-CHRIS CALDEIRA/KAI BARTLETT	        5:09:47	  OPEN MN-20
22-IAN FOESTER/ KEVIN ALLEN		5:10:41	  OPEN MN-21
23-BRUCE BLAKENFIELD/GREGG POOLE	5:12:49	  MAST. MN 40+-2
24-ERIC LEVORA/TODD PAYES		5:15:31	  OPEN MN-22
25-ANDREW GLATZEL/DAVID BUCK	        5:17:03	  OPEN MN-23
26-BRITT CRAVEN/BRUCE AYAU	        5:17:11	  OPEN MN-24
27-RALF GREY/BRUCE BLACK		5:21:29	  OPEN MN-25
28-TIM DOUGHERTY/ROB		        5:22:13	  OPEN MN-26
29-JEFF METZGER/DENNIS YAP		5:22:36	  MAST. MN 50+-1
30-BEENIE HEEN/ MARK MEYERS	        5:23:12	  MAST. MN 40+-3
31-MARVIN DUDOIT/KAM LOPEZ	        5:24:33	  OPEN MN-27
32-PAT VON/ VICTOR SERMAN		5:24:35	  OPEN MN-28
33-GAYLORD WILCOX/NAPPY NAPOLEON	5:28:29	  MAST. MN 50+-2
34-ROB GOYLAND/TREVOR  (AUSTRALIA)      5:28:57	  OPEN MN-29
35-JIM HEWITT/ KEA PAIAINA		5:30:42	  OPEN MN-30
36-KAREL TRESNAK/KAREL TRESNAK JR 	5:32:16	  OPEN MN-31
37-JOHN CHANG/RON BARRON		5:33:47	  OPEN MN-32
38-JONLI ALO/PAUL ROSS		        5:34:22	  OPEN MN-33
39-TAY PERRY/RODNEY ROMANS	        5:35:05	  MAST. MN 50+-3
40-RANDY DAVIS/MEL PAUOLE		5:36:43	  MAST. MN 40+-4
41-JAY REY/DAVID DANIELS		5:40:22	  OPEN MN-34
42-CORY MEHAU/PETE RONY		        5:42:14	  MAST. MN 40+-5
43-MARY SMOLENSKI/NICOLE WILCOX/
      LORI STEWART (CANADA)		5:43:31	  OPEN WM-1	NAIA
44-RON KIMBALL/GREG DAVIS		5:46:43	  MAST. 40+-6
45-DONNA KAHAKUI/HADLEY GAFFNEY	        5:51:09	  OPEN WM-2	CONNER
46-CHRIS DAWSON/ROGER MCKEAGUE	        5:51:35	  OPEN MN-35
47-JENNIE MACLEON/ NOELANI SAWER	5:54:15	  OPEN WM	MAKANI
48-BYRON HO/JOHN BRYAN		        5:54:35	  OPEN MN-36
49-MARK BUCK/ BILL DANDFORD	        5:57:39	  MAST. MN 50+4
50-CHERYL VILLEGAS/GRACE EMANUEL	5:58:53	  OPEN WM-4
51-HARVEY AKI/GALEN CHEE		5:59:31	  OPEN MN-37
52-SHANE LOWELL/DT DALTON		5:59:39	  OPEN MN-38
53-NEIL HANKS/JOEL BUTH		        6:00:31	  OPEN MN-39
54-MAGGIE KAWAIAEA/THERESA FELGATE      6:02:06   OPEN WM-5
55-BETH SCHULER/ MARY BREWER	        6:05:05	  MAST. WM 40+-1
56-NALU YEN/JEFF CUMMINGS		6:05:51	  OPEN MN-40
57- RACHAEL SMITH/ ANN ELISE FARELL     ?	  OPEN WM-6
58-GEOFF WEBB/ MELINDA SHARPE (AUST.)   6:06:36	  OPEN MIXED-1
59-LEEANN ANDERSON/MELANIE BAILEY	6:07:49	  OPEN WM-7
60-JACK MCKEERERY/JOHN GONZALES	        6:09:11	  MAST. 40+-7
61-JUDY SANGUILIANO/JULIE HORNER	6:10:15	  OPEN WM-8
62-TONY HARWOOD/GENE MCINERNY	        6:15:47	  OPEN MN--41
63-HERMAN MEEK/KENDALL STRUXNESS	6:17:04	  OPEN MN-42
64-LIBBY FAULK/SANDY COMBIS	        6:20:53	  OPEN WM-9
65-KATHY LIBERMAN/ SHARI WILBAGER (C)   6:21:36	  OPEN WM-10
66-MAGGIE CHIMIENTI/MICHELLE SPARLING   6:23:14   OPEN WM-11
67-MARY ARMSTRONG/SHERVELLE GARDNER     6:33:09	  OPEN WM-12
68-KATIE BOUTHILLIER/ELIZABETH DOLEZAL  6:35:23	  OPEN WM-13
69-TRICIA NAGATANI/SUSAN COLEBURN	7:05:34   OPEN WM-14
70-DAVID CHAMBERS/BOB WOODMAN (CANADA)  7:17:17	  OPEN MEN-43