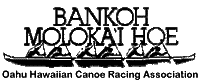 Healani Canoe Club
Honolulu, Hawai`i
Open - Crew 1

Coach:Michael A Batur----?
Canoe # 1 - Finish overall: 49th Time: 5:52:52
Canoe name: Leilehua

Paddling Members:
Kealii Paiana
Craig Souza
Ryan Makua
Kekaa Ng
Charles "Kale" Kakama IV
Russell ----?
Justin Kerfoot
Dannu Nakanishi
Curt Inouye
---
Open - Crew 2
Coach: Norma Santiago
Canoe # 2 - Finish overall: 88th Time: 6:22:26
Canoe name: Halolani
Paddling Members:
Jackie Kaaihue
Christian Pimental
Jason Park
Eric Ijiri
Charles Castro
Sean Castro
Elias Canta
Jeff Zimmerman
Peter Pale
Club WebPage:
Back to the Race
Last Modified: Sunday 10/19/97
Copyright © 1997, O`ahu Hawaiian Canoe Racing Association
Produced OnLine by HoloHolo Internet Publishing, all rights reserved.