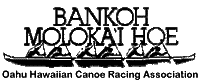 Leeward Kai Canoe Club
Honolulu, Hawai`i
Open

Coach: Vera R...?
Canoe # 68 - Finish overall: 95th Time: 6:28:42
Canoe name: He Makana O Hanalei

Paddling Members:
Joshua Ekau
Greg Gomes
?... Baker
Imilio Palencia
Fred Bautista
Ryan Van Giesen
Manuel Kaleiopu
Perry Hakaraia
Mike Scholnick
Club WebPage:
Back to the Race
Last Modified: Friday 10/24/97
Copyright © 1997, O`ahu Hawaiian Canoe Racing Association
Produced OnLine by HoloHolo Internet Publishing, all rights reserved.