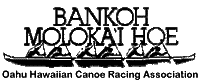 A.S. Tepaetia
Rangiroa Tahiti

Open


Coach: Ray ?
Canoe # 46 - Finish overall: 5th Time: 5:08:09
Canoe name: Kainalu

Paddling Members:
Philippe Bernadino
Rudolph Bernadino
Daniel Nuuyzure ?
Salan Tuiorua
Maxo Horua
David Wong-Ri
Steve Vair...oa
Firipa Degage
William Philpotts
---
Club WebPage:
Back to the Race
Last Modified: Thursday 10/23/97
Copyright © 1997, O`ahu Hawaiian Canoe Racing Association
Produced OnLine by HoloHolo Internet Publishing, all rights reserved.