out here aboard Mike DeRego's Maggie Joe lead escort vessel
and it's kinda rough out here today, so may not put up
many pix till after the race is over....

Time (of day) noted here is approximate - as logged by the camera
and was within a minute or so of 'official' time.


in some instances the time-sequence of the shots may not make sense
but the time noted is what the camera recorded....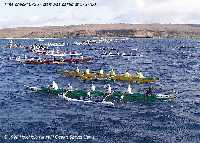 as you can see the start was a bit chaotic,
with most of the canoes called over-early

this one, snapped at 0741 - shows Kai Opua & Team NZ...
the Kiwis had been in front until just moments before
and the Hawai`i crew, now steamrolling ahead, held the lead for the next 4 hours!
by 0900 HST, the 1st four were looking like this:
Kai Opua is firmly in the lead now , on a southerly route
close behind and way up north is Lanikai
with Team NZ and Outrigger Haw battling it out in the middle for 3rd
NZ's lead on Outrigger is growing tho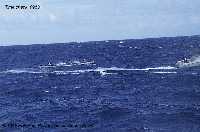 Kai Opua changing 3, with nobody else in sight....

the course was a bit rough early on - here just past La`au Point
as Captain LJ - of Escort Boats Hawaii, models his foul-weather gear for us ;)
guess it was a "bit wet" on the way over, eh LJ?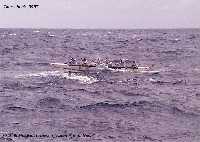 at 0957 - Kai Opua, charging along at full-speed here
their lead at times more than 1/4 mile ahead of the other 3 frontrunners
the rest of the pack dropping further and further back

for the next hour-n1/2, there'd be little change at the front end
and with the rest of the 96+ crews nearly out of sight and way spread out,
it was difficult at best to ascertain just who was where
but it was here - just off Koko Head, that Outrigger Haw would make their move...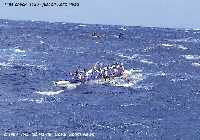 aboard Maggie Joe, our observation was that Kai Opua had erred fataly
in their attempt to cover Outrigger's higher route to Koko Head, which
caused them to lose speed as they paddled more upstream in the currents and wind

Kai Opua still ahead here, moving into 'the shadow' of Koko Head

moments later, our boat still in the same spot, Outrigger blasts by
now barely 2 minutes behind, after closing dramatically in the last few minutes.
the crew paddling furiously like wild animals here, you could see
the power in their stroke fire-up as they caught and surfed the swells

as Outrigger barreled along, gaining with every swell....
Kai Opua was able to cling to the lead, but only for the next few minutes


swell by swell they dueled thru this stretch, Outrigger coming up on em
then the next wave would have Kai Opua lurch ahead once again...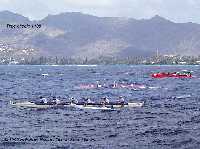 by this point you could hear the screaming cheers of the crowd on the boats
THIS was the moment we'd all been watching for....
would the Big Island crew be able to hang on in the face of
Outrigger's rapidly building momentum?

and then.... with a roar from the spectators and a push off a swell
Outrigger powers ahead!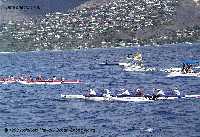 Kai Opua wasn't about to just quit here tho.. did they still have something left?
would't Outrigger have to change again here somewhere??

neck n neck, wave by wave, stroke by stroke, they went at it......

Outrigger was showing superior endurance tho, not missing a beat
the next swell was Kai Opua's, however and they surged ahead once again!!....
the fans on the boats whooping it up, cheering/driving em on...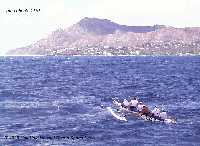 with a bit of a lead going now, Kai Opua goes for the change...
and tho they hardly lost a stroke.. they weren't far enough ahead
Outrigger quickly closing in and overtakin em for the last time...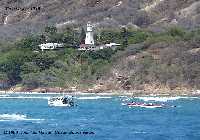 in the home-stretch at Diamond Head Light,
OCC was just cruising now, with KO falling further back

just moments later and slicing thru the middle of a pack of windsurfers
Team New Zealand comes on strong with a 2nd wind
catches and passes Kai Opua!!

the Kiwis - surfing on the shore break, blow past the Big Island crew...
and appear to be gaining quickly on Outrigger - another drag race?
could be, but it's time to head for the beach to try get the arrivals
so Capt Mike stomps on Maggie Joe's throttles...

but Outrigger was zippin, so by the time we got into another boat
and headed ashore, this was all we saw of em....
and hey!.. how's that crowd, huh? - ever try to get pix of the winners of this gig?
tho eye did manage to get "a few" at last year's race
wasn't that lucky this year.. and this is NEVER an easy thing to photograph

the paddler's view of the Molokai Hoe Finish Line

Waikiki YC Canoe Team Crew 2, crossing the line 67th at 6:30:11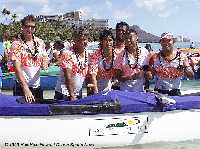 WYC Crew 2, sponsored by: Laser Eye Institute of Hawaii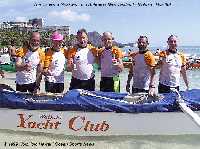 New Zealand's Taniwha Grizzlies, VIP guests of Waikiki YC
read more about them here

WYC Crew 1 - who eye finally caught up with at the party back at "the ranch"
ahh so!... so this is where you guys all snuck off to....
while yerz truly was slaving-away over a hot 'puta screen
putting up the results and offloading pix
you guys are all over here suckin up the suds!! ;)
who-evah said this web-geekin stuff was all glamour, anyway?
---
meanwhile... shortly later - over at the
Ocean Club Party & Awards Presentation
not sure who all these people are, but eye do know some of em...
more details later - soon as somebody Emails & tells me
(no fo'get, eh - take off NO SPAM b4 sending)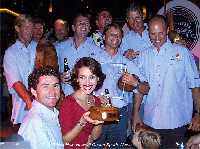 and this - eye know for sure, is Australia's Mooloolaba OCC
Winners of the Masters Div
and holding the calabash, with the Beaming Smile in red
is Candes Gentry - aka Miss Hawai`i 99?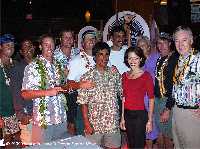 Kai Opua? (the hungry/thirsty ones anyway)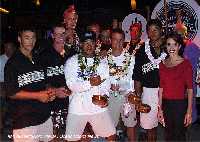 Team New Zealand here, 2nd Overall
with "hired-gun" steersman Todd Bradley of OCC to the right/center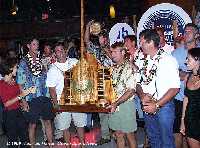 and overall 1999 Overall WINNERS: Outrigger Canoe Club Honolulu
with Walter Guild on the mic...

steersman Billy Balding, center, holding the trophy
with Coach Kala Judd on the right in white...