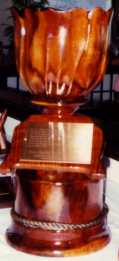 Kala Kukea
He was a singing dream, too bright and wise,
Too special to stay.
We heard his laughter for a short swift while...
And then he went away.
And now no healing grace of suns,
Or tropic gardens bright with rain,
Bring back the bloom of such a one...
Or light for us his smile again.
Somewhere he is dancing in the sunlight,
Who loved so the sand, the sun and the warm sea,
Level voice, firm grey eyes...too bright and wise...and far
Too special to stay.
This koa umeke has been crafted by Stewart Medeiros of Haaula, Oahu and donated to Kanaka Ikaika by Carol Hogan/Ocean Promotion in memory of Kala Kukea and is awarded to the first Hawai`i finisher in the 50 years and older division, the division that Kala won last year.