*almost live means we're using a digicam and a laptop onsite,
in an effort to bring the show to the folks at home ASAP...
in most cases, the pix are uploaded within an hour or so? after snap.
and tho we'd like to have all the boats come in when we can be there,
it doesn't usually work out that way - but we're trying!
Scroll down for the latest update

Finishing at 1447 HST, July 11th in The West Marine Pacific Cup,
Killer


ALOHA & CONGRATULATIONS on a fine race...
So what ya snapped the stick!!

Killer pulling up to the bulkhead

As the crew abandons ship, you can see what's left of the rig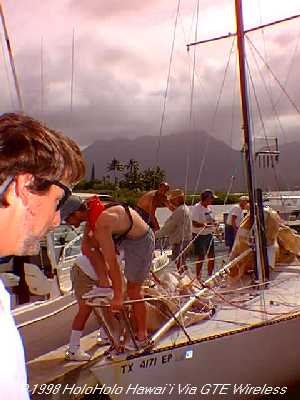 Ahhh what's the big deal - a little ductape and some pop rivets....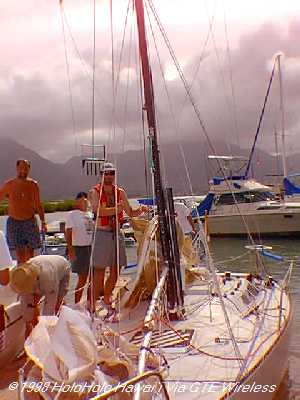 Killer pineapple, huh?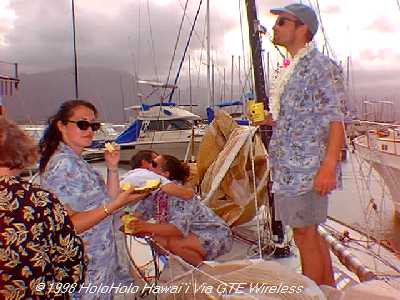 Arriving right behind, without a moment to spare and
Finishing at 1554 HST, July 11th in The West Marine Pacific Cup,
Camelot

Which way to the showers?!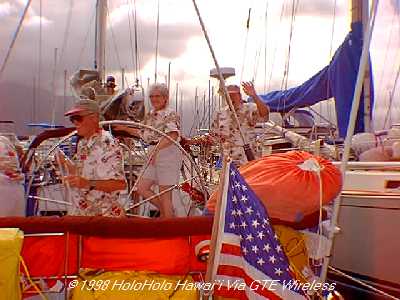 Put'er there, pal! - we may even have a lei or 2 left....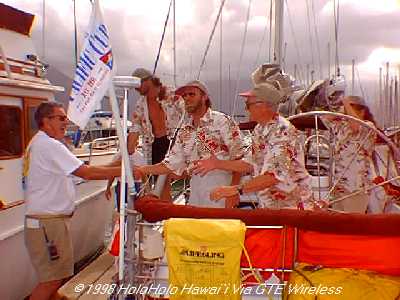 PLEASE, oh please give us some Mai Tai's!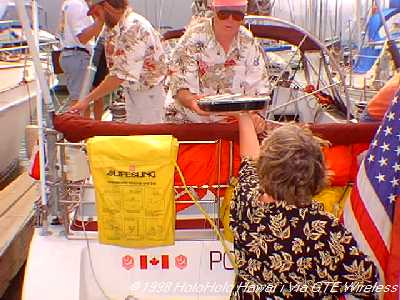 Stay tuned to this page for more arrival pix from Kane`ohe Bay!
Next "almost live" report: Coming up soon....

Note: Much higher quality prints of these pix can be had
Email your requests
---
"So You Wanna Have Some FUN?"
Long Term Mooring for Pacific Cup Participants

Hele On to Kaneohe Yacht Club
HoloHolo Hawai`i Ocean Sports News
Last Modified:19980711.NOON HST Funday