*almost live means we're using a digicam and a laptop onsite,
in an effort to bring the show to the folks at home ASAP...
in most cases, the pix are uploaded within an hour or so? after snap.
and tho we'd like to have all the boats come in when we can be there,
it doesn't usually work out that way - but we're trying!
Scroll down for the latest update

As the sun slooowly drops behind the Koolaus....
well... the clouds aren't helping any here, are they?

It looks like we got Red Sky? coming in
even tho it's pretty much "grey sky" here right now....

and look who's here - it's Mike Kelly from Waikiki YC,
Mike here, is the PHRF Captain for
the Hawaii Yacht Racing Association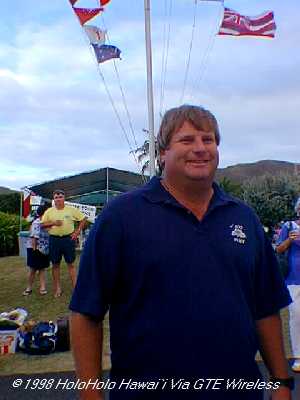 Well... Red Sky finally made it in...
even if they did hafta motor in, with a broken rudder
here's the skipper? where's the rest of em, skip?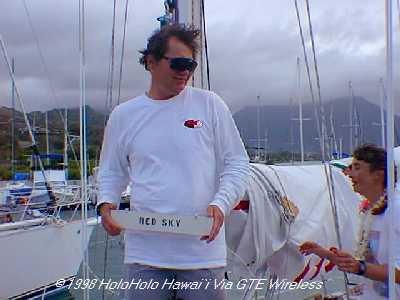 QUICK!!, we need hydro - HYDRO us NOW!!!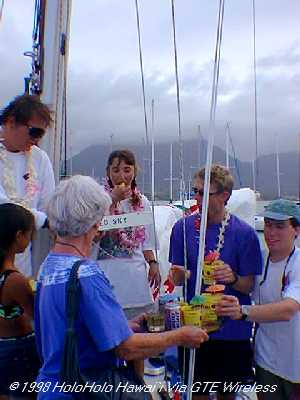 Some of Red Sky's shore(moral) support team
they got 'drafted' by the Mai Tai crew...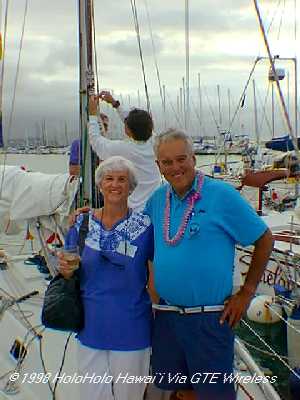 Finishing at 1536 HST, July 11th in The West Marine Pacific Cup,
Red Sky

ALOHA & Welcome to Kane`ohe!
The crew of Red Sky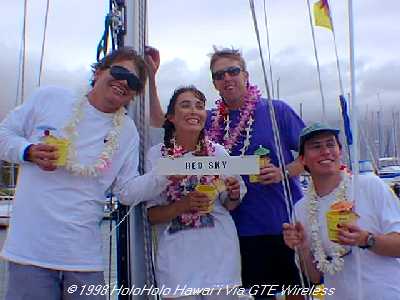 hey, hey, HEY!!!!... this is serious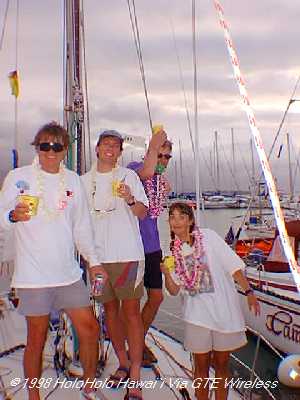 that's BETTER!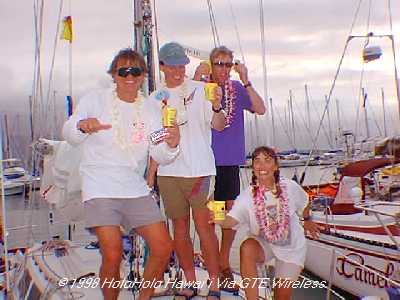 wow!, even more WYC people....
It's Tall Mary & Jolene, over from the big city for the party.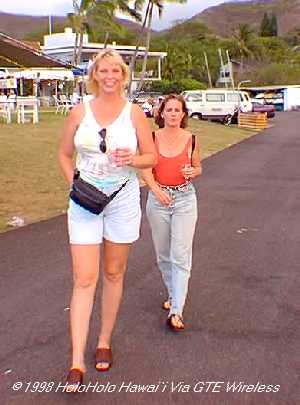 Hey LOOK.. there's that Lat38 guy
we wern't sposda take pix of..... ooops.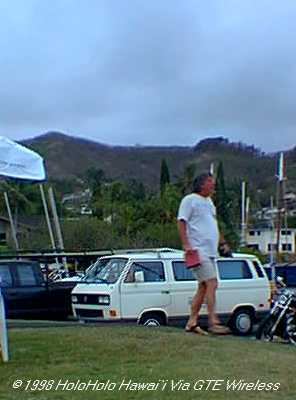 and even more WYC people...
Les Vasconellos and friend Susan here for the party too.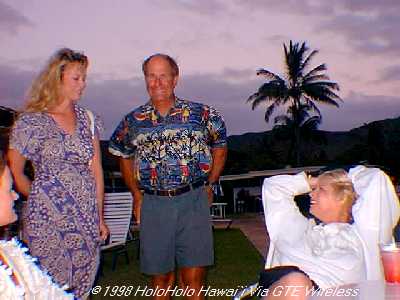 Stay tuned to this page for more arrival pix from Kane`ohe Bay!
Next "almost live" report: Coming up soon....

Note: Much higher quality prints of these pix can be had
Email your requests
---
"So You Wanna Have Some FUN?"
Long Term Mooring for Pacific Cup Participants

Hele On to Kaneohe Yacht Club
HoloHolo Hawai`i Ocean Sports News
Last Modified:19980711.NOON HST Funday