Waimea Bay, O`ahu, HAWAI`I - (Friday, January 12, 2001) -- Fourteen years of trying to master the huge waves of Hawaii's Waimea Bay paid big dividends for Australian Ross Clarke-Jones today, as he surfed his way to first place and a $50,000 paycheck in "The Quiksilver" in Memory of Eddie Aikau competition.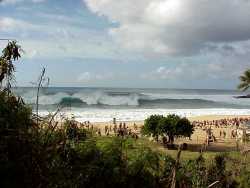 Clarke-Jones and 23 of the world's big-wave riding specialists lined up against the backdrop of Waimea Bay for a one-day specialty event in honor of Hawaiian big-wave legend Eddie Aikau. Waves towered at 20 feet (35-40 feet wave faces) and each surfer had the opportunity to compete in two rounds, with his four best rides by the end of the day counting in his overall total. Each wave could score a maximum of 100 points, for a possible total over four waves of 400 points.


Pix courtesy of The Byte Zone: 808.523.6888
Clarke-Jones was the clear leader of the event with a total of 319 points by the end of his two-round performance, finishing in first place ahead of top five finishers Shane Dorian (Hawaii) - 292 points, Paul Paterson (Australia) - 283 points, Ross Williams (Hawaii) - 280 points, and Kelly Slater (Florida, USA) - 270 points.
Charging his way into the biggest waves, committing himself to elevator-drop take-offs and surviving the crashing tons of white-water, Clarke-Jones had the two highest wave scores of the day - 92 and 91 points. His third and fourth scores were both 68 points.
"My devotion to this event has been total for the past 12 years," said an ecstatic Clarke-Jones, 34. "I've wanted it so hard and for so long that I think I've put too much pressure on myself and my past performances have been a bit disappointing.
"To win has been a dream for so long that I had almost given up on it. It's not even the money. I've spent 10 times that amount just staying here every winter waiting for the event to happen. It's purely the prestige. To be able to say you've won The Eddie.
"Unfortunately I never got to meet Eddie. But I've looked up to him. His style, and what he did. I've always felt a natural affinity with him. I remember hearing about how he paddled away from the canoe to get help and I thought to myself that that was something I would do."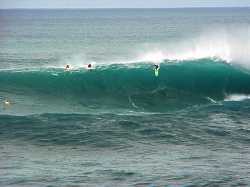 Today's event was in honor of Aikau, as it has been since its inception in 1986. Aikau surfed to legendary status on the huge days at Waimea Bay, also lifeguarding there during the 1960's and 1970's. March 16, 1978, he was lost at sea during an historic voyage on the Hokule`a voyaging canoe when the canoe was swamped in high seas off the Hawaiian island of Moloka`i. Aikau paddled to get help for his crew but was never seen again. As a tribute to his big-wave surfing at Waimea, "The Quiksilver" is held each winter on a day when the waves hit 20 feet - just as Eddie would have liked it.
Aikau's younger brother Clyde was the oldest invitee in the event today. At 51, Clyde's surfing ability speaks for itself, having won "The Quiksilver" back in 1986. Today he was back in excellent form, placing 10th overall.
"I had a super first round today but was a little out of sync in the second," said Aikau. "But it's a pleasure to surf in this event. For Hawaiians, it's always special to have a family day at the beach. Especially at Waimea Bay. There's a lot of spirit to this place.

"There have been many memorable days of riding big waves at this place. I still remember the biggest day out here with Eddie - November 19, 1967 - a Wednesday. Waves were coming in at 35 to 40 feet. When you ride waves like that with only sheer brute strength and a surfboard, that's all-time legendary status. Even though a lot of the competitors today didn't know Eddie personally, those guys who know what riding big waves is all about will always feel that connection with him."
While the use of jetskis have enabled surfers to find their way into larger waves than Waimea delivered today, overcoming the barrier of single-handedly stroking into waves by being towed in, riding Waimea on big days like today is a respected pursuit. As a testament to the power of the Waimea lineup, one of Hawaii's greatest watermen and lifeguards, Brian Keaulana (Makaha), incurred the only serious injury today. Keaulana ruptured his eardrum after a nasty wipeout in the last heat of the day. He was brought to shore by the lifeguard jetski.
In 15 years of the event, it has only been run a total of four times when waves have reached sufficient height within the allotted winter waiting period. Today, Ross Clarke-Jones became the first non-Hawaiian to win. It was an honor that was worth the wait.
For further information: Jodi Young, in Hawaii (808) 989-4634 or (808) 337-2323.
MORE from Swell.Com
Final Results:

1. Ross Clarke-Jones (Aus) 319 points - $50,000

2. Shane Dorian (Hawaii) 292 - $10,000

3. Paul Paterson (Aus) 283 - $5,000

4. Ross Williams (Haw) 280 - $3,000

5. Kelly Slater (USA) 270 - $2,000

6. Tony Moniz (Haw) 268 - $1,000

7 - 24th all receive $600

7. John Gomes (Haw) 264

8. Darryl Virostko (USA) 254

8. Peter Mel (USA) 254

10. Clyde Aikau (Haw) 251

11. Russ Keaulana (Haw) 250

12. Cheyne Horan (Aus) 249

13. Keoni Downing (Haw) 239

14. Myles Padaca (Haw) 236

15. Tony Ray (Aus) 234

16. Braden Dias (Haw) 232

17. Keoni Watson (Haw) 210

18. Brian Keaulana (Haw) 207

19. Garrett McNamara (Haw) 201

20. Jamie Sterling (Haw) 181

21. Noah Johnson (Haw) 158

21. Elijah Young (Aus) 158

23. Marvin Foster (Haw) 108

24. Pancho Sullivan (Haw) 103