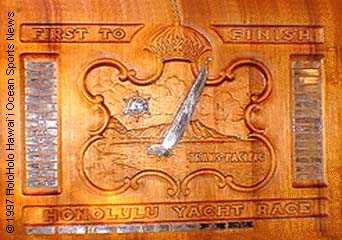 It's a 3 x 4 1/2-foot, 3 3/8-inch thick slab of Hawaiian koa wood officially named the Transpacific Yacht Club Perpetual Trophy but more commonly known for its unique proportions. Who carved it, who nicknamed it--indeed, which of three known versions is the original--remain a mystery. Although the West Coast's premier sailboat race dates to 1906, the Barn Door didn't appear until the late 40s, according to Bob Allan of Carmel, a competitor of the post-World War II era. When Allan raced on Bill Stewart's victorious Chubasco in 1947, he says, Chubasco won no Barn Door.
"But in 1949 I was on Dick Rheem's Morning Star when we set a [then] record of 10 1/2 days--and we did get a 'Barn Door,' " Allan said.
Rheem deposited what is believed to be a replica at the St. Francis Yacht Club in San Francisco, and in 1973 the widow of Frank Hooykaas, the winner aboard Barlovento in 1957, presented another to the Catalina Island Yacht Club, where it remains on display.
All bear the prominent cutout words: "FIRST TO FINISH." That was appropriate until 1991 when organizers started staggering the starts to allow the smaller boats a head start and compress the first and last finishes at Diamond Head, which were sometimes a week or more apart.
So when it evolved in '91 that the tradition of the fastest boat finishing first might change, the Barn Door's recipient officially became the monohull with the "fastest elapsed time," no matter what's carved in the upper left corner.