Pegasus XIV Arrives!
Crossing The Diamond Head Finish Line At 03:21:54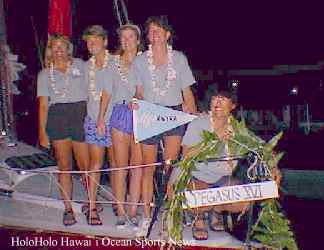 The TWC in from the sea!
"how was it out there?...WET!
---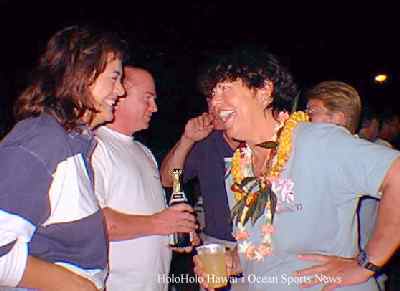 Linda Newland, with Dan there in the back, clutching
Mai Tai - ready to go - chatting with HYC's Sooze Dannals
---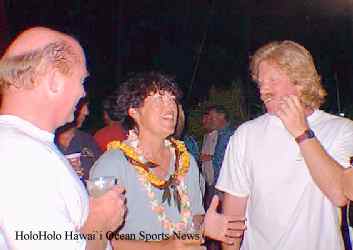 And look who shows up!
Latitude 38's Roving Reporter Rob Moore:
We go where the Women go, sez Rob - wind?
so what's the scoop, Rob?.....
How wet was it?" Linda sez ".. it was so wet on the boat that the
water-activated self-inflating PFD's were goin off down below"
perty wet, we'll bet. -
---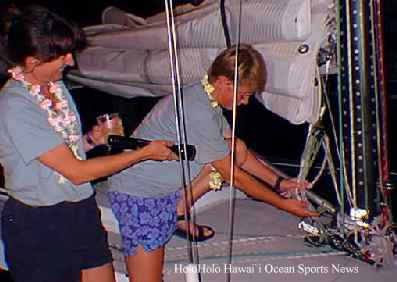 Then Melinda McCoy and Beth Bell show off their new invention
"the further-articulated vang".....hmmm.... looks like with a bit of work in the shop it might fly, huh?
---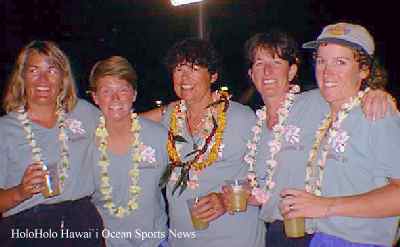 Sue Senescu, Beth Bell, Linda Newland, Melinda McCoy, Val Navarro

The Transpac Womens Challenge Team
---


WYC Transpac Nav Station

Last modified: Sunday July 14th '97 O dark thirty Hawaiian Time
Copyright © 1997, HoloHolo Internet Publishing, all rights reserved