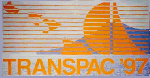 Transpac 97 LIVE at Transpac Row

Most recent update from Race HQ 7/12/97 PM
The record-smasher Explorer throttling back
after crossing the Diamond Head Finish Line July 12th
at 19:18:26 HST with an elapsed time of 5:09:18:26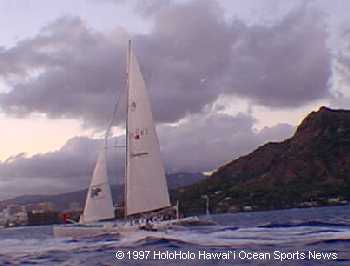 Explorer just past the Diamond Head buoy, headed for Waikiki Beach
---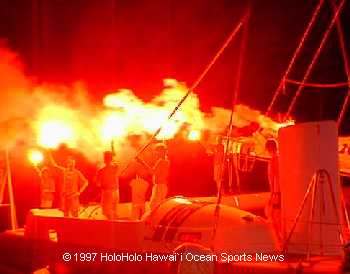 The now traditional? flare-up upon arrival in port at Hawaii YC
with quite the crowd on hand to welcome them ashore...
---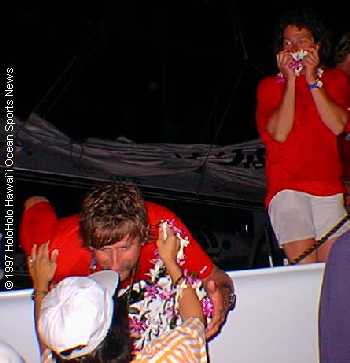 THE Traditional Transpac Greeting of leis and mai tais at HYC...
that's Skip Novak "getting lei'd" while Florence Arthaud inhales some Aloha
we'd bet it's a mighty refreshing change from the fragrances likely on the boat ;)
---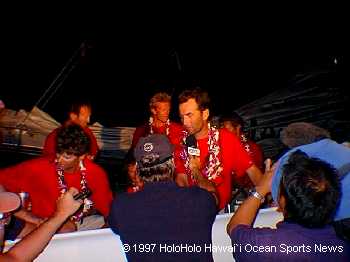 The press moves in...
and on the left, that's the arm of ace sail maker/reporter
Jumpin' Jimbo Maselli with the tape rollin as the ESPN guys do the askin...
---
Bruno Peyron, owner/co-skip - is up first... more on the words later.
---
Roving-reporter/navigator Skip Novak was on deck next...
Skip did a really super job keeping the fans connected
to the voyage via Wireless NetXpress direct to their website
lot's of news from them there.
---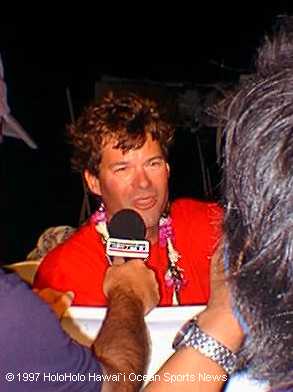 Co-skipper Cam Lewis, one of the more well-known of the multihull
luminati - had some interesting observations on this record-breaking
Transpac - more on him at the Adventurelearning.com website.
---
Check out BJ Caldwell's account of This Story
as he makes ready for a 2nd Run Round the World for The Around-Alone Record


WYC Transpac Nav Station

Last modified July 12th '97 Way Late Hawaiian Time
Copyright © 1997, HoloHolo Internet Publishing, all rights reserved