Long Beach, Calif (June 24, 1997) -- When the elite of the fleet in the 39th Transpacific Yacht Race set off for Hawai`i on Saturday, July 5, they'll not only be chasing a Pacific sunset but a strange trophy they would sell their sailing souls for:

the Barn Door.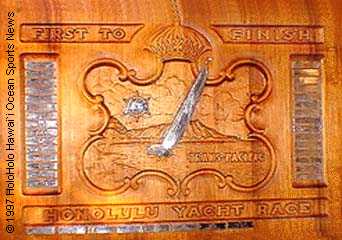 It's a 3 x 4 1/2-foot, 3 3/8-inch thick slab of Hawaiian koa wood officially named the Transpacific Yacht Club Perpetual Trophy but more commonly known for its unique proportions. Who carved it, who nicknamed it--indeed, which of three known versions is the original--remain a mystery. Although the West Coast's premier sailboat race dates to 1906, the Barn Door didn't appear until the late 40s, according to Bob Allan of Carmel, a competitor of the post-World War II era. When Allan raced on Bill Stewart's victorious Chubasco in 1947, he says, Chubasco won no Barn Door.
"But in 1949 I was on Dick Rheem's Morning Star when we set a [then] record of 10 1/2 days--and we did get a 'Barn Door,' " Allan said.
Rheem deposited what is believed to be a replica at the St. Francis Yacht Club in San Francisco, and in 1973 the widow of Frank Hooykaas, the winner aboard Barlovento in 1957, presented another to the Catalina Island Yacht Club, where it remains on display.
All bear the prominent cutout words: "FIRST TO FINISH." That was appropriate until 1991 when organizers started staggering the starts to allow the smaller boats a head start and compress the first and last finishes at Diamond Head, which were sometimes a week or more apart. This year, in a race that normally takes two weeks or less, the seven boats in the new, more leisurely Cruising Division start June 28, a week ahead of the intensely contested maxi-sled class, and even the smaller, race-rigged monohulls were given a three-day head start on July 2. Multihulls, the fastest of all, start July 7.
So when it evolved in '91 that the tradition of the fastest boat finishing first might change, the Barn Door's recipient officially became the monohull with the "fastest elapsed time," no matter what's carved in the upper left corner.
If that takes an edge off the quest, it's not apparent by the entry list. There are nine boats going all-out in Division I, the top maxi-sled class. Five belong to the new generation of pure lightweight "turbo sleds" evolved from the stock ULDB 70 class: Hal Ward's defending champion Cheval; Roy Disney's Pyewacket; Mike Campbell's Victoria; Doug Baker's new Magnitude; and Anthony Sessions' Canadian entry Luna Barba, which was called Silver Bullet when former owner John DeLaura claimed the Barn Door in 1989 and '93.
Others in Division I include three new boats: Vicki, the pride of Al Schultz and actress wife Vicki Lawrence; Dan Sinclair's Renegade from Canada, and the imposing and mysterious new Zephyrus IV. Finally, there is the venerable and reconfigured Merlin, whose record has stood for 20 years.
Because Merlin won the Barn Door in 1977 and '87, as well as '81, co-skipper Skip Stevely says, "Going by decades, it's our time again." The boat still owns three of the four fastest elapsed times ever and in '95 was fifth fastest and corrected out first overall on handicap. The Lee 68, forerunner of the ULDB 70 "sled" class, was first sailed in '77 by designer Bill Lee to a record time of 8 days 11 hours 1 minute 45 seconds from Point Fermin to the Diamond Head buoy. Four years later a charter group led by Nick Frazee missed that time by 46 seconds, and since then potentially faster boats have been waiting for the fair winds that favored Merlin. One must finish within a couple of minutes of midnight PDT July 13 to claim the record.
Merlin this time is chartered by the "Alliance Syndicate," which consists of Stevely of San Francisco and John Jacquemin and Art Santry of New York. Stevely has done 11 Transpacs, including five on Merlin.
Stevely realizes Merlin's inherent shortcoming: Lee built it to sail downwind, not upwind. Sometimes, early in the race, Stevely said, "It's real depressing. But when we start surfing we go fast."
Merlin has been modified with a canting keel that swings 10 or 11 degrees to either side for increased stability. That should help, but for the first couple of days of upwind sailing Merlin may still suffer until the tradewinds kick in from abeam.
Long Beach's Alan Andrews has a major stake in the race. He designed Cheval, Victoria, Magnitude, Vicki and Renegade, as well as Persuasion and Medicine Man in Division III starting July 2.
Zephyrus IV, designed by John Reichel and Jim Pugh for San Diego's John Parrish and San Francisco's Bob McNeil, has never raced. It's bigger than its rivals--75 feet and 30,000 pounds displacement to 68 1/2 feet and 26,000 for the turbos--and its crew includes North Sails president Gary Weisman.
To avert an arms war, all boats must rate within the Transpac "speed limit" according to their speed potential, but Pugh said extra muscle was built into Zephyrus IV. "We're looking for more performance in the first third of the race when you're power-reaching," he said, "and we still hope to get the same performance downwind."
In '95, Cheval outperformed two potentially more powerful boats--Sayonara and Windquest--to win the Barn Door, despite losing two-thirds of its mast and sailing under jury rig on the final day. Ward, an Arcadia eye surgeon, still basks in the glory.
"First to finish in the Transpac is the Holy Grail of West Coast racing," he said.
Media Alert
The Get Challenged team of HIV/AIDS victims will host a media session Monday, June 30, 10 a.m., on its boat Survivor in front of the Long Beach Yacht Club. Details: Get Challenged at (800) 328-4102 or LBYC at (562) 598-9401.
Transpac Notes:

* Brack Duker's Santa Cruz 70 Evolution, recent winner of the Cal Cup buoy competition, has withdrawn because of a business conflict by the owner. That drops the entry list to 39, one more than started the last race in 1995

* The Swedish 80-footer Nicorette designed by Bruce Farr recently claimed a record of 11 days 13 hours for crossing the Atlantic. That's an average of 10.56 knots for the 2,925 nautical miles. The 68-foot Merlin's 20-year-old record for the Transpac's 2,225 miles is 8 days 11 hours--an average of 10.96 knots.

* Veteran Transpac navigator Joe Buck reports that the Coast Guard weather fax radio station NMC at Point Reyes, Calif. has terminated its 96-hour surface forecast for the Pacific--"the longest range forecast map of isobars that is readily available while at sea," Buck said. "NMC will continue to provide 24- and 48-hour forecasts of the isobars, [and that] while the 96-hour forecast is but one of a half-dozen important sources of information, when you are racing you want all of the good information you can get."

* The pre-race skippers' meetings will be coupled with traditional Aloha dinners for the Cruising Division Thursday, June 26, at the Long Beach Yacht Club ($25) and for all others July 1 on the Queen Mary ($35). Also, there will be an Aloha Cocktail Party at LBYC June 30 ($7) with complimentary mai tais and hors d'oeuvres. Details and reservations: Sandy Martin at (310) 608-3401 or Cathie Nash at (714) 646-5129

* Boats will be available to watch the four starts: the Cruising Class June 28, Divisions III and IV July 2, Divisions I and II (turbo-sleds and sleds) July 5 and multihulls July 7. A combination press and spectator boat will leave from the Long Beach Yacht Club at 10 a.m. June 28 and July 2. On July 5 a press-only boat will leave from Los Angeles Yacht Club in San Pedro at 10:30 a.m. and a spectator boat will leave at 11. More details later. Passengers are advised to provide their own seasick prevention medication, as necessary.

* Previous releases and updated information are available on the Internet at http://www.kenwoodcorp.com/transpac97 and from each of the women's teams' web sites: http://www.northcounty.com/womensail/ and http://www.holoholo.org/transpac/womens/index.html

* ESPNEWS and ESPN2 will have daily live simulcast reports of the race from July 7 through July 15 between 2 and 3 p.m. PDT. In addition, as the race gets under way ESPN and ESPNEWS will report live July 5 between 3 and 3:30 p.m. PDT, and on July 6 there will be a taped simulcast of the major monohull start between 5 and 6 a.m. PDT.
Now there's betting!
Parimutuel wagering has magically come to the Transpac through the Tradewinds Yacht Club of Costa Rica, a division of Tradewinds Casino and Sports Book. The Transpacific Yacht Club was not consulted and is not involved directly or indirectly. While sailors generally race only for trophies, with perhaps modest side bets among themselves for drinks or lunch, heavy betting is virtually unknown in the sport. Information, odds and and betting plans are available by phoning (800) 664-0092 or on the Internet at http://www.TradewindsYC.com . Betting options, based on corrected handicap time, include exactas, trifectas, the "Barn Door" winner and longest daily runs. You can even bet one women's boat against the other. Currently, Zephyrus IV is the Barn Door favorite at 3-1, followed by Pyewacket, 4-1; Cheval, 5-1; Victoria, 7-1, and Magnitude, 8-1.
For Mainland media information until July 12, please contact:
Rich Roberts
1258 Lakme Ave
Wilmington, CA 90744
Phone (310) 835-2526
Fax (310) 513-1664
E-mail: richroberts@compuserve.com
For daily position and standings excerpts phone:
Long Beach Yacht Club: (562) 431-8100
Honolulu media center: (808) 946-1100
Honolulu race headquarters: (808) 946-9061
Transpacific Yacht Club
Gil Jones, Commodore