MEDICINE MAN SETS RECORD
SALSIPUEDES FIRST ACROSS FOR CRUISING FLEET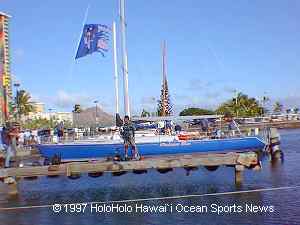 Honolulu, Hawaii (July 10, 1997) -- Bob Lane's Medicine Man led an all-out assault on the 20-year-old record for the Transpacific Yacht Race to Hawai`i Thursday, surfing across the finish line off Diamond Head in
8 days 6 hours 31 minutes and zero seconds.
Medicine Man pulling in at Transpac Row - Diamond Head end
That was about 4 1/2 hours better than the record of 8:11:01:45 by the 66-foot Merlin in 1977, but it probably won't stand for long. Coming hard are the maxi class turbo-sleds and the standard ULDB 70s, which started three days later and counted 11 bigger, faster boats on an even faster pace.


It was a sweet finish for Lane, whose ran a previous Medicine Man onto the rocks within sight of Diamond Head in the 1989 race.
"I'm really not much into records," said Lane, who represents the Long Beach Yacht Club and runs a pharmacy in Pico Rivera, a Los Angeles suburb. "But they've gotta beat MY record now."
In that onrushing fleet, two old warriors caught the fever as 20-knot northeast tradewinds continued to blow the boats along. Three-time winner Merlin and two-time winner Ragtime had their best days in years to join the record rush.
Merlin , chartered by a group of race veterans and reconfigured with a canting keel, sailed 327 miles between 24-hour roll calls--four miles farther than the one-day record that stood 10 years until this race.
In Division II, Ragtime , now owned by Scott Zimmer of Newport Beach, turned 307 miles to leap from sixth to fourth place among the ULDB 70 "sleds" that followed its victories in 1973 and '75.
But Roy Disney's Pyewacket had the best shot at a record that will stand, holding a 33-mile lead over Hal Ward's defending champion Cheval with 804 miles to go in the 2,225-nautical mile race from San Pedro.
For the third time in three days Pyewacket topped the old 24-hour mileage record by logging 331, the same as Cheval, but the hot boat was Mike Campbell's Victoria from Long Beach, which did 337 to beat Pyewacket's four-day-old record by one mile.
Any of those monohulls finishing by midnight Sunday PDT will beat Merlin's old record.
But sometime before that the two giant multihulls, Bruno Peyron's 86-foot Explorer and Steve Fossett's 60-foot Lakota should fly past the fleet en route to a Saturday finish well under Lakota's 1995 record run of 6:16:07:16.
Explorer , which started with Lakota two days after the fastest monohulls, sailed 471 miles Thursday, while Lakota fell 60 miles behind with 438.
On the horizon behind Medicine Man was Fred Frye's 52-foot Salsipuedes from San Diego, the winner of the race's new cruising class that started four days ahead of Medicine Man's group and a week ahead of the sleds. Salsipuedes finished about 27 minutes behind Medicine Man.
For more info contact Carol Hogan
Transpac Media Center 808-946-9061
STANDINGS BY CORRECTED HANDICAPS AT 8 AM THURSDAY:
DIVISION I (started 7-5)--1. Pyewacket, Roy Disney, Los Angeles YC, 804 miles to go (331 miles in previous 24 hours); 2. Cheval, Hal Ward, California YC, 837 (331); 3. Victoria, Mike Campbell, Long Beach YC, 850 (337); 4. Luna Barba, Anthony Sessions, Royal Vancouver YC, 862 (308); 5. Merlin, Alliance Syndicate, New York YC, 874 (327); 6. Renegade, Dan Sinclair, Royal Vancouver YC, 930 (282).
DIVISION II (started 7-5)--1. Taxi Dancer, Don Hughes/Bob Richards, Santa Barbara YC, 914 (289); 2. Mirage, Jim Ryley, St. Francis YC, 919; 3. Grand Illusion, James McDowell, Lahaina YC, 936; 4. Ragtime, Scott Zimmer, Balboa YC, 955; 5. Kathmandu, Joe Jaconi, Los Angeles YC, 955; 6. Orient Express, Peter Tong, St. Francis YC, 971 (258)l; 7. Cheval 88, Steve Popovich, Cabrillo Beach YC, 996..
DIVISION III (started 7-2)--1. Ralphie, Jerry Montgomery, Alamitos Bay YC, 342; 2. *Medicine Man, FINISHED Bob Lane, Long Beach YC, 135; 3. Stealth Chicken, Liz Hjorth, California YC, 319; 4. Persuasion, Steve Travis, Seattle Corinthian YC, 319; 5. Bay Wolf, Betty Sue Sherman, Long Beach YC,457; 6. Survivor, Rob Hudson, Get Challenged, Ojai, 542; 7. Seven Seas III, Karl Schopp, Huntington Harbour YC, 754.
DIVISION IV (started 7-2)--1. Pegasus XIV, Linda Newland, Island YC, Alameda, 704; 2. Acey Deucy, Richard K. Leute, Encinal YC, Dover, Del., 601; 3. Silver Girl, Christopher Stumpf, Ketchikan, Alaska YC, 1,114.
CRUISING DIVISION (started 6-28)--1. *Salsipuedes, Fred Frye, San Diego Yacht Club, finished; 2. Surprise, Richard Sherlock, Anacapa YC, Channel Islands, 400; 3. Inquisitor, John Black, American Legion YC, San Diego, 406; 4. Ka Ula Lani, George Killam, Richmond, Calif. YC, 434; 5. Endeavor III, Eleanor Clitheroe, Royal Canadian YC, Toronto, 500.
MULTIHULL I--1. Explorer, Bruno Peyron, YC La Baule, France, 999 (471 previous 24 hours); 2. Lakota, Steve Fossett, San Diego YC, 1,059 (438).
MULTIHULL II--1. Alguita, Charles Moore, Long Beach YC, 990.

Most recent updates

WYC Transpac Nav Station

Last modified July 10th '97 2139 Hawaiian Time