Latest News
The Arrival Scene NOW posted! (7/15)
Last Update: 1929 HST 15July01
Hawai`i Weather -|- Winds -|- Waves

2 Guys Finish at 04:46:19 HST 13July01
Double-Handed Div WINNER on Corr Time

SEE: 1st of the Arrival Pix & Comments from The Fans
Read: Daily SatCom Reports
from OUT THERE on The Edge

Previous News Items:

Girl's courage inspires yacht
Star Bulletin story (7/5)
A 12-year-old with cancer keeps tabs on her special crew

Rig mishap causes 2Guys to nearly miss start of TransPac..
Quick thinking by skipper of BayWolf saves the day!
READ: story at Honolulu Advertiser (7/1)
SEE: The Pix from The Starting Line (& The Drama ;)
FOR IMMEDIATE RELEASE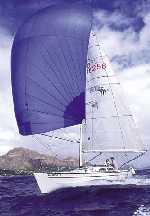 HONOLULU, Hawai`i (June 19, 2001) - The 41st Transpacific Yacht Race, which starts in Los Angeles and finishes in Honolulu, starts June 25 through July 1.
Last year's Winner of the Doublehanded division, who also beat 11 larger boats, "Two Guys on the Edge", will be at it again.
Dan Doyle, President of Capitol Research Group, a Honolulu based real estate investment firm, has decided dedicate this years entry of his 30 foot Sonoma to The Leukemia & Lymphoma Society to signify another race, the race against blood related cancers.
Dan Doyle and Bruce Burgess will crew "Two Guys on the Edge" , but they have added another member to their team, 12 year old leukemia survivor, Natalie Fraizer. Natalie will be an Honorary Crew Member keeping in touch with her teammates throughout the race, delivering inspiration from her home in Mililani via Ham radio. Natalie is a local leukemia patient whose fight against leukemia parallels the challenges in the race ahead of Dan and Bruce. Dan says , "It is our hope that the challenge of our shorthanded effort along with being the smallest entrant in this years race will help draw attention to the many individuals like Natalie, that often face great challenges in the race against blood related cancers."
By adding Natalie Fraizer as an Honorary Crew Member, "Two Guys on the Edge" hope to raise awareness and funds for The Leukemia & Lymphoma Society. "Two Guys on the Edge" and their Honorary Crew Member, Natalie Frazier, will be at Waikiki Yacht Club on Tuesday June 19th 6:00 PM at the "Two Guys on the Edge" Transpac Race reception, and will be accepting donations for their race against blood related cancers. Bruce Burgess says, "To see and feel the inspiration of Natalie makes one aware of how precious life is. I am proud to be involved in this effort to raise funds and awareness for The Leukemia & Lymphoma Society".
The Leukemia & Lymphoma Society, with 58 chapters nationwide, is the world's largest, private organization concerned solely with funding research towards cures for blood-related cancers such as leukemia, lymphoma, Hodgkin's disease and myeloma and improving the quality of life of patients and their families. As a result of ongoing research, overall survival rates for leukemia have tripled in the last 39 years. The Society is dedicated to being one of the top-rated voluntary health agencies in terms of dollars that directly fund the mission: close to 80% of the Society's expenditures are directed to research, patient and community services, advocacy, and education.
More information about the Leukemia & Lymphoma Society is available at http://www.leukemia-lymphoma.org .
CONTACT:
Mea Neal (808) 534-1222
nealm@ca-sd.leukemia-lymphoma.org
---
Transpacific Yacht Club -|- Yacht Clubs of Hawai`i