Latest News
from:
TransPacificYC -|- 2 Guys On The Edge -|- Team Pegasus -|- Mother Nature
ETA/Finish Reports from Diamond Head Light
Arrival Photos / Guestbook
Updating hourly/24hours till the last one in
FOR IMMEDIATE RELEASE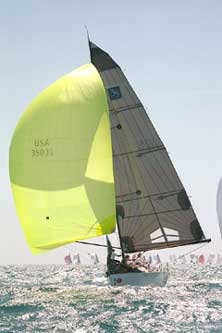 HONOLULU, Hawai`i (Sun, 13 Jul 2003 22:48:20)
Aloha all!
Last night saw Two Guys in her element! We had superior conditions and really worked them to our favor. As you may know by now our position (standings) didn't improve but our overall corrected position in class improved immensely. This morning we were 21 seconds corrected time behind Tabasco, and less then 19 mins out of second! A remarkable achievement given that just 24 ours ago, we were as much as 12 hours or more behind second.
News Flash!
To brightening up an already bright day, I just got word that my oldest Son, Sean 15 yrs old, whom is sailing with the very talented Martin Sterling out of KYC, just won the 420 North Americans today in NY...
Back to Two guys, it is unbearably hot onboard and the wind has been everything from 12 to 20 knots from 104 degrees to 54 degrees..big shifts are the order of the day. As long as we can surf we will be in the hunt in class IV for a podium finish, a real feat considering we were second to last a few days ago, and sailing against all fully crewed boats. Bruce and I are pretty fatigued, but we want this fleet thing bad, particularly since one of the 1D35 crowd called this boat the "Cruising" version...well see how they feel in a few days if we can keep our performance up....They NEVER should have said that! :)
Right now things look like this..
Double-handed Trophy 1st place
Dillingham trophy a real good chance for a win here we need only pick up a few hours on Seafire and IF it blows that should happen...
Div IV
This is the one we are pushing for...keep your eyes on us and send some breeze!
Aloha!
"Two Guys looking for a win"
---
Two Guys on the Edge 2001
Transpacific Yacht Club -|- Yacht Clubs of Hawai`i