PROFESSIONAL SURFERS EXCEL IN 12 FOOT SURF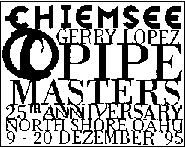 Pipeline, HI (Dec. 17, l995)... Four days of waiting paid off when one west- northwest swell and offshore winds materialized today, bringing ten - to 12 foot waves to Oahu's North Shore. The huge waves offered competitors in the Chiemsee Gerry Lopez Pipe Masters a chance to advance in the final world championship event of the year.
The contest is the last event of the Red Dog Triple Crown of Surfing and the
Coca-Cola/ASP World Tour.
Hawaii's Sunny Garcia, currently number one in the world, surfed against Australian Mark Occhilupo in a much anticipated second round heat . But Garcia, who (as of this writing), continues to lead the world title chase, didn't make it through. The maneuvers for which Garcia is famous never materialized and close to the end of the 30-minute heat, his leash broke, costing precious time while his caddy paddled another board out to him.
Moreover, Garcia never managed to find the barrels the judges are looking for. On the other hand, Occhilupo managed several excellent tube rides posting a 19.33 score to Garcia's 18.70. Occhilupo, who won the Pipe Masters in 1985 and this year surfed his way up through the trials, finished off the day beating fellow countryman Luke Egan with 22.00 to 15.34. In towering waves, Occhilupo's wave selection and committed tube-riding earned him the edge.
"There is a lot of pressure going into a heat like that when you're up against someone who has been working all year for a world title," Occhilupo said. "But for me now, there is no pressure."
Scores of photographers followed Garcia up the beach after the heat but he was in no mood to talk. He went straight to the house where he's staying and no-one saw him after that. According to close friend Derek Ho, "the house was quiet. For me it was like watching a brother lose. He was pretty speechless." When asked to speculate on Garcia's heat, Ho said, "it's a barrel. The judges are looking for that. It's not a matter of big moves, the guys are getting threes and fours for taking off on big waves, but you get rewarded big for big barrels."
But in the first heats of round three, it was Derek Ho who stole the show with the breath-taking tube rides for which he is famous. Ho finished the heat with a 27.99 score against Fabio Nunes' 22.83.
"That was a great heat, it's about time," Ho said. "I was waiting for a good heat to come around. Watching Slater and seeing the kind of scores he was getting, and then having the opportunity to do the same myself -- that's what I was waiting for.
Several years ago Ho set the Pipeline standard by which all tube-rides are judged when he caught the longest tube-ride ever and was buried for over seven seconds. At this stage he is also on track for his fifth Triple Crown of Surfing award.
Meanwhile, defending world champion Slater, 23, continued a flawless run through to round three, advancing ahead of local surfer Pancho Sullivan. Taking the steepest drops, the most critical takeoffs and the deepest barrels, Slater's "no fear" approach has earned him much respect and has him tipped for a start in the final.
In order to clinch his third world title, Slater must win the final. The only surfer who can stand in his way is Rob Machado, who could well face Slater in the semi-final. Machado, 22, from California, surfed superbly in the hefty conditions today and needs to make the final, but not necessarily win, in order to clinch his maiden world title.
Other sensational wins were posted by Shane Dorian (Hawaii), Kalani Robb (Hawaii) and Matt Hoy (Australia).
For information, call Carol Hogan or Jodi Holmes at the
Lava Net Press Trailer at:
808-638-5533 Fax: 808-638-5008 or the
Triple Crown Hot Line: 808-638-5024
EMail address: Carol Hogan

Check us out on the Internet at: http://holoholo.org/triplecrown/
HoloHolo On Back, press the back button on your browser
Last Modified : Sunday 12/17/95 1950 HST
Copyright © 1995, HoloHolo Internet Publishing, all rights reserved