SLATER WINS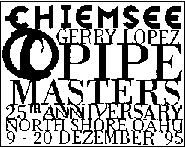 WORLD TITLE, CHIEMSEE GERRY LOPEZ PIPE MASTERS, AND THE HAWAIIAN TRIPLE CROWN
Honolulu, HI (Dec 18 1995)...Floridian Kelly Slater won the 25th annual Chiemsee Gerry Lopez Pipe Masters in perfect six-to-eight foot waves on Oahu's North Shore, out pointing Australian trialist and 1985 Pipe Masters champion Mark Occhilupo. The win was Slater's third in the Pipeline event. In a watery versio n of a hat trick, Slater also clinched his third world title and won his first Hawaiian Triple Crown championship.
It was the final event in the 1995 Red Dog Triple Crown of Surfing. Slater got $14,000. Second was Australia's Mark Occhilupo, $7,000. Winning equal third place positions were Hawaii's Shane Dorian, $3,000 and California's Rob Machado, $3,000.
Slater's Pipeline win was undisputed. In the two-man final, the defending world champion buried himself in the deepest and fastest barrels of the day, exceeding his own expectations. Risking life and limb, Slater took late drops into the mountainous wall s of water and stalled for tube rides, disappearing from sight for up to six seconds at a time. When the mist cleared, it was the closest world title finish in the history of the Association of Surfing Professionals (ASP).
Pipeline featured two-man heats from Round One through the final, and 29-nine year old Occhilupo (who was not seeded into the contest) surfed his way up through the trials, competing in a total of 10 heats throughout the contest. Occhilupo, from Queensla nd, put on a huge final show and scored 28.34 points over his best four waves to Slater's 31.14. Slater's highest scoring wave was a 9.60 in the final.
After a strong start to the 40 minute final, "Occy's dream of winning the Pipe Masters came undone 10 minutes before the close when his surfboard snapped. After a horrific wipeout during a tube-ride attempt, he was caught inside in a cauldron of white wa ter and surfaced to find a broken board. His caddy paddled out a back-up surfboard with no leash. Unattached to his board, Occhilupo took off deep on one last ride to top his own scores with a 9.17. When the final horn sounded, it was Slater who owned the day and the 1995 Coca-Cola/ASP World Championship Tour crown for the third time. (1992, '94 & 95).
"A lot of goals of mine were reached in the last hour," Slater said. "The Triple Crown championship is something I've wanted to win since I was a kid. That just added motivation. Coming into the Triple Crown I didn't think I could do it." The champion ship is determined by the number of points accumulated in each of the three men's Triple Crown events.
In an earlier heat, Slater. 23, posted the highest heat score - 29.70 points out of a possible 30 in the semi-final against fellow world title contender Rob Machado (California).
With that single heat deciding the 1995 world title, both surfers pulled out all the stops and put their lives on the line at the world's most powerful contest break. Slater scored two back-to-back perfect 10 point rides, grabbing a rail and sitting deep in a left-hand tube, and then pulling in for the longest and deepest tube ride at the Backdoor, going right.
Follwed up by a 9.70, Slater was on his way back out to the lineup in time to witness Machado fighting back with a mind-boggling ride. As Machado, 22, reappeared from the tube, he and Machado did a high-five and shared an emotional moment.
"Being in a heat with your best friend (Machado) is an awesome situation to be in." Slater said. "I can't explain, aside from giving you the points. Rob and I have been travelling together for about five years, off and on. We first met in Florida at the US Championships when I was 14 and Rob was 12."
"From there we knew each other from competition and in 1990 we ended up on the world team together. At that contest we stayed together and we sort of figured out our competitive streak with ping-pong. From there our relationship became that of real clo se friends," Slater said.
"I stay at his house when I'm in California, and we surf together when we're on tour. Now we play music together. Peter King (an MTV host and surfer), plays rhythms, Rob plays guitar and I sing and play guitar," Slater said.
When Occhiliupo came to Hawaii, he wasn't sure he would make it into the Triple Crown: "Coming into this contest I never knew I was going to get a slot, this was just a dream. I came here wanting to show my wife all my old haunts and try to explain to her what my lfe used to be like when I was on tour before, so somebody else knew how it was for me. I'd like to relieve that, again, with her." Occhilupo will be back on the WQS tour in 1996.
Hawaii's Sunny Garcia led the world title chase coming into this final WCT, but yesterday Occhilupo aced him out of a second round heat. The only way Slater could beat him was to win the contest. Garcia continued to lead the world tour until just before noon today, when Machado moved out of the quarterfinals and beat him, and then Slater confirmed it with his win. Machado finished up second overall in the world, 80 points behind Slater. Garcia was third overall, 120 points out of first.
In the Triple Crown championship race, Slater had 1850 points. Second overall was Hawaii's Derek Ho, 1790 points. Third was Australia's Shane Powell 1770 points. Luke Egan was awarded a trophy for worst wipeout of the contest. Slater (who else?) won the trophy for best tube ride.
Check us out on the Internet at: http://holoholo.org/triplecrown/
Last Modified : Sunday 12/17/95 1950 HST
Copyright © 1995, HoloHolo Internet Publishing, all rights reserved