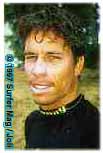 34. Armando Daltro, 24.
Plata Salvador, Brazil

Another Brazilian newcomer. Appeared awestruck by the elite company early in the year. By mid-season, he'd found his feet, adding greater flow and rhythm to his natural energy and enthusiasm. He'll be learning in Hawaii this year, but--as he's already shown--he's a fast learner.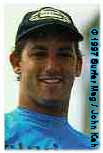 35. Beau Emerton, 22,
Forster, Australia

One of Australia's brightest hopes. Earned quick respect from his ASP peers. Flashy and dynamic in small waves. Able to draw the classic power lines in the juice. Big results are only a matter of time.

36. Neco Padaratz, 20,
Florianopolis, Brazil

Shocked the tour with his first-year blitzkrieg, vaulting into the top 10. Has already made two semifinals, one at perfect Kirra. Taking over where his older brother Flavio took off. Raw and aggressive. Rookie of the year.

37. Michael Lowe, 20,
Windang, Australia

Brought up on serious reef waves of southeast Australia. Loves Hawaii. Specifically, loves Pipeline. Even as a kid, managed to snag his share of set waves there. Straight-A student. Postponed law school to do the tour.

38. Shawn Sutton, 22,
Ewa Beach, Hawaii

Another WCT newcomer with something to prove. Grew up on Oahu's Westside. Tough rookie year. No doubt stoked to be back on familiar turf. Full of determination. Clearly able to take a few hits. Ready to charge.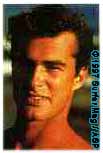 39. Mark Bannister, 25,
Cremore, Australia

Knocked out of the Top 44 and all but forgotten two years ago. Has oozed gritty self-belief through a hard-fought comeback. His uncluttered power style suits Hawaii. Still has a lot of ground to make up on the pacesetters.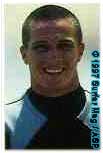 40. Daniel Wills, 21,
Byron Bay, Australia

A popular pick for most likely to succeed among the new Aussie hopefuls, but struggled for results in his first WCT season. Has shown flashes of brilliance. Peers take him very seriously. Capable of mixing with the toughest company on the North Shore. Could be one of the surprises of the Triple Crown.

41. Mark Occhilupo, 31,
Tweed Heads, Australia

Perhaps the most impressive comeback in the history of pro surfing. After a seven-year hiatus, Occy reintroduced himself to the surfing world at the 1995 Pipe Masters, surfing from the trials to the final. Qualified for the WCT this year and rocketed into the top five. An amazing performer in Hawaiian waters. Powerful beyond words. Could conceivably win all three events here.

42. Cory Lopez, 20,
Indian Rocks Bch, Florida

With big brother Shea pushing him, Lopez has made huge leaps in his first WCT season. Another natural trickster. Has shown signs that he can translate small-wave brilliance into Hawaiian power. Future giant-killer.

43. Michael Campbell, 20,
Avalon, Australia

The classic Aussie battler. Qualified for the WCT after three years of slogging it out with minimal sponsorship. This year, lifted his surfing to a new level. Still needs experience in Hawaii, but can be expected to post some highlights.

44. Danny Melhado, 25,
Indialantic, Florida

A hard-core surf rat. Given the choice, he'd rarely leave the water. Blessed with a natural, fluid style. Has found the going tough at the elite WCT level, but improves with each event. Hawaii might be his last chance to salvage something from the season.