Event: The Chiemsee Gerry Lopez Pipe Masters. The final contest in the G-Shock Triple Crown of Surfing, this pioneer event of professional surfing was founded in 1971 by water sports enthusiast Fred Hemmings. This is the longest running professional surf competition in the United States.

Sanctioned by the ASP (Association of Surfing Professionals) as the final World Championship Tour event on the Coca-Cola/ASP World Tour.

The Triple Crown Champion is determined by the number of points accumulated in all three contests. The winner will be announced following the completion of the final event. Kaipo Jaquias won the 1996 Triple Crown title.

Where: The the famous and dangerous Banzai Pipeline break at Ehukai Beach Park on O`ahu's North Shore.

When: Holding Period December 8 - December 20, 1996.
Competition requires four full days and is held on the days the surf is biggest and best as determined by the contest director.

For announcements about contest progress and wave conditions, listen to Surf News Network at 596-7873, or check the sports section in the daily newspapers.

Who: Sponsored by: Chiemsee, (pronounced "Kimsay"), a prominent German-based, European sportswear company.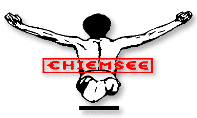 Produced by: Triple Crown, Inc:

Executive Director: Randy Rarick
Contest Director: Bernie Baker
Media Director: Carol Hogan/Ocean Promotion
Defending Champion: Kelly Slater. Slater won the 1996 ASP World Championship title and the Pipeline Masters title.
Prize Money: $120,600.
Surfers:
Men's Competition: Limited trials of 32 invited surfers -- all Pipeline elite. Four surfers will qualify to join the world's top rated 44 surfers, who are seeded into the Main Event.
Awards: The Men's awards ceremony with Hawaiian entertainment and presentation of the winner, the second place finisher and equal third place runners-up is held on the beach stage immediately following the finals. A press conference will be held on site immediately following the awards.
Press Facility: The press facility will be open at Ehukai Beach Park on surfing days, from 8:00am to the end of each day's competition. All telephone numbers will be effective starting 12/8/96. Hotline: 808-638-5024.
Internet: Pre-contest information is available on the Internet. Results of the Chiemsee Gerry Lopez Pipe Masters will be posted on the Internet at the following locations:
http://holoholo.org/triplecrown/
Press Information:
Please contact Carol Hogan/Ocean Promotion
73-1241 Melomelo Street, Kailua-Kona, HI 96740
Phone & Fax: 808-325-7400
Email address: oceanpro@interpac.net