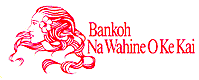 1994 Results
OFFSHORE MAKES IT EIGHT!

HONOLULU, HI (Sept. 24, 1995)--Challenge best describes the 16th annual Bankoh Na Wahine O Ke Kai. And for the eighth time, OffShore Canoe Club of Newport Beach, Calif., won the 41-mile women's world championship open ocean outrigger canoe race, which finishes at the Hilton Hawaiian Village in Waikiki.
Their time was six hours, 37 seconds, across the relatively calm Kaiwi (Molokai) Channel from Molokai to Oahu. OffShore holds the record, 5:44.13, set in 1990.
While the Channel was not a major challenge, a new rule change, reducing the number of women on the open teams from 10 to 12, created a whole new race.
"Having just 10 paddlers was definitely a factor," said Cathy Ho Whitford a member of OffShore's crew. They were using the prototype of a new and faster canoe, called the "Force 5." With the new canoe, OffShore was able to surf whatever small chop there was.
"If we had 12 paddlers with the new canoe, we might have been able to break the record," Whitford said. Team members included JoJo Toeppner (who has paddled all 16 races), Sheila Conover, Mindy Clark, Gina Aubrey, Agnetta Anderssen, Brooke Harris, Julie Wolf, Cathy Hearn, Stephanie Kozowk and Whitford.
"While the channel was not as big as we would like, overall it was a really, really nice day. We took a straight line to Portlock, then went straight to Diamond Head and around the corner," said Whitford, who paddled with Honolulu's Outrigger Canoe Club for six years and is married to Offshore's coach, Billy Whitford.
"These are a great group of women," Ho said. "They just stay in awesome shape." The crew had practiced in the new canoe just once for half an hour prior to the race.
Kailua Canoe Club #1 team was second overall in 6:07.28, their best time ever. Outrigger Canoe Club #1 was third in 6:08.47.
Kailua led the pack at the entrance to the Kaiwi Channel. "We led at Laau Point, that's a first for us," said Karen Kiefer. "We were so excited. Then we split up into a different course than OffShore and dropped back a bit. But then we moved from fifth to second.
"We got to paddle more because of the reduced crew. It's challenging, but it's do-able. We were in the boat a lot more than we were out," Kiefer said.
The first foreign crew to finish was Sunshine State Outrigger Canoe Squad from Sunshine Coast, Australia, finishing fifth overall in 6:20.25. Following them was false Creek Racing Canoe Club from Vancouver, Canada, in 6:24.56.
There were 47 entries, a record field, which included teams from Australia, Canada, England, New Zealand and the United States(Mainland) and Hawaii.
Bank of Hawaii, the states largest bank, has more than 100 locations throughout Hawaii, the Pacific and Asia. It also sponsors the men's world championship,Bankoh Molokai Hoe, in October and the Bankoh Kayak Challenge open ocean world championship surfski race.
Last Modified : Sunday - 09-24-95 - 1018 HST
Copyright © 1995, HoloHolo Internet Publishing, all rights reserved