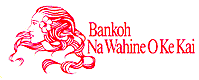 FOR WOMEN OF THE SEA - A DREAM COME TRUE

Honolulu HI. Female paddlers from Australia, Canada, Hawaii, New Zealand and the Mainland United States will challenge each other on September 24, 1995, in the 17th annual Bankoh Na Wahine O Ke Kai - "Women of the Sea" - 41 mile, six-person outrigger canoe race across the Kaiwi Channel from Molokai to Oahu.
The event, now acknowledged as the championship of women's long-distance canoe paddling, began as a dream that many considered impossible -for women. And it took years of patience and persistence on the part of those whose dream it was to convince coaches and officials that it was possible for women to paddle across the Kaiwi channel.
One of those who kept the dream alive and helped ta make it a reality is Hannie Anderson, one of the race founders and the race director since the first crossing on October 15, 1979.
The dream began in 1954, two years after the first men's Molokai to Oahu canoe race took place, and from that time on Anderson and several other women dedicated themselves to promoting the idea of a women's channel race. Coaches and officials insisted women could not handle canoes in the treacherous channel.
However, the women were not easily discouraged. They simply put the idea on hold until a more opportune moment came.
It was 1975 when the first unofficial crossing was made. Conceived first as a solo effort by Healani Canoe Club, they were later challenged by a team headed by Donna Wolf. They called themselves Onipa'a and paddlers from four canoe clubs--Kailua, Outrigger, Lanikai and Waikiki Surf--joined together, the first time paddlers from rival clubs were ever permitted to paddle together. The Hawaiian word onipa'a means "steadfast" and was the personal and official motto of Queen Liliuokalani, the last Hawaiian monarch.
Team members were: Anona Napoleon, Georgia Adams, C. Waterman. Donna Coelho, J. Rudscrom, Sandy Kalahiki, Puna Dawson, H. Keono, Rosie Lum, K. Parker, G. Kalo, T. Tannihill, N. Cids, G. Moniz, C. Froiseth, Anne Nichol, T. Chun, Carleen Ornellas, and C. Morishigi. Each crew consisted of 18 women.
Healani Canoe Club was coached by Richard "Babe" Bell. Their crew members were: Uilani Bell, Queenie Niguchi, A. Puna, Nani Spencer, Shay Bintliff, Marsha Kreosky, Elsa Wright, Male Tufele, J. Price, Florence Apa, Ellen Pabliano, Bernie Alu, Robin Reed, J. Williams, E. Liby, Evelyn Arakaki, R. Kealupuluole, M. Shishido, Mary Komp and Georgia Campbell.
Anderson and the late Leinani Farias, another colleague who shared the dream, officiated that first "race."
The two crews and officials set out from Molokai in 6 am darkness, prompting Healani steersperson Marsha Kreosky to yell, "Am I going the right way?"
It was a close contest but Healani won, with a time of seven hours 19 minutes 20 seconds, when they took a more southerly route to Oahu. Onipa'a finished approximately 15 minutes later.
Channel conditions were termed "average," meaning 5-8-foot swells with crosswinds. Coach Bell said the Molokai Channel was not as rough as his 20-member women's crew expected it to be but enthusiastic members of his crew, the first women's team to ever cross the channel, were a bit more emphatic.
"We never thought of quitting. I could go on to Barber's Point," said Georgia Campbell.
The main thing was the women proved women could do it.
Then on October 15, 1979, the dream came to life. Instrumental in organizing and conducting the races were: Mary Winchester, Donna Wolf, Lita Blankenfield, Connie McGuire, Mary Fern, Charlene Machado, Amy Best, Puna Dawson, Carleen Ornelles and Anderson. Faria, who inspired others and helped make the race a reality, passed away in March 1979 and did not live to see the dream come true. In honor of her many years of support and effort, the inaugural Na Wahine O Ke Kai was dedicated to her memory.
CALIFORNIA'S OFFSHORE HAS TAKEN THE TITLE EIGHT TIMES
Sixteen races have been held since 1979, with the 1980 race cancelled due to high winds and 25- to 30-foot seas. Offshore Canoe Club, from Newport Beach, Calif., won the race six consecutive times from 1986 to 1981, before relinquishing the title to Outrigger Canoe Club in 1992. They regained the title in 1993 and kept it in '94. The club has participated in every race since 1979 and so has crew member JoJo Toeppner, from Newport Beach. With Olympic paddlers among its ranks the club has placed second or third in the races it didn't win, and will return to defend its title in 1995. They still hold the record crossing time of five hours 44 minutes 13 seconds set in 1990.
Outrigger Canoe Club won the first race in 1979 and again in 1981. Hui Nalu won it in 1982 and '83. In 1984 and '85 and '92 Outrigger made a comeback. Tired of being beaten in their own home town, Outrigger proved their channel experience and in 1992 finally claimed victory over their California competitors, crossing in 5:49.02, just four minutes 59 seconds short of OffShores record.
1986 was a year of surprises. In addition to the California crew's win, a surprise entry from Chicago - the Illinois Brigade - shut down Outrigger and took an unexpected second, dropping Outrigger into third place.
On September 24, an estimated 50 crews will be at the start, challenging one another to see who's number one in endurance. The race begins at 7:30 a.m. at Hale O Lono Harbor on Molokai and the first finisher is expected to cross the line in front of Duke Kahanamoku Beach at the Hilton Hawaiian Village, approximately five- and one-half hours later.
BANKOH SUPPORTS HAWAIIAN CANOE PADDLING
As part of its ongoing commitment to support community activities and Hawaiian canoe paddling, Bank of Hawaii is the title sponsor for Na Wahine O Ke Kai, officially known as the Bankoh Na Wahine O Ke Kai.
For many years Bank of Hawaii has actively sponsored the men's Bankoh Molokai Hoe and other Hawaiian sports and cultural events. As a Hawaii- based corporation, Bank of Hawaii realizes the importance of supporting culturally oriented activities and sees its sponsorship as a positive avenue to perpetuate the Hawaiian Culture.
PAN AMERICAN - DILLINGHAM CORP - HAWAIIAN AIRLINES
FIRST TO SPONSOR NA WAHINE O KE KAI
Covering the bottom line is the basis behind any successful sports contest, but proving the worth of a first-year event can be difficult because sponsors don't buy dreams. In fact, one of the biggest challenges organizers of inaugural events face is finding a sponsor who is willing to financially support their cause.
To make the first Na Wahine happen, organizers held fundraisers and sold everything from t-shirts to sausage. Finally, through diligent efforts, the women gained support for their cause. The first official race sponsors were Hawaiian Airlines, Pan American and Dillingham Corp. Race director Anderson, a former sales executive for Hawaiian, helped to establish all of these sponsorships.
HILTON HAWAIIAN VILLAGE SETS THE STAGE
The Hilton Hawaiian Village furnishes the stage set-up and sound system for the finish of Bankoh Na Wahine O Ke Kai on Duke Kahanamoku Beach fronting the hotel property. The hotel also provides a hospitality room with sandwiches and fruit punch for the press, officials, judges and the volunteers.
RACE AIRED ON KHON TV 2
KHON TV-2 annually creates a one-hour documentary of the women's Bankoh Na Wahine O Ke Kai. It is broadcast locally two weeks after the race. This hour-long program covers all the exciting highlights from various clubs training on neighbor islands to preparation on Molokai, the start and finish and highlights of the crossing.
Last Modified : Sunday - 09-24-95 - 1018 HST
Copyright © 1995, HoloHolo Internet Publishing, all rights reserved