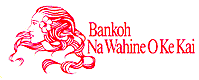 1995 Results
RECORDS FALL! In the BANKOH NA WAHINE O KE KAI

(HONOLULU, Hawai`i -- September 24 1995) It wasn't just a record-breaking day in the Bankoh Na Wahine O Ke Kai outrigger canoe race -- it was a day in which the first seven out of a total of 48 finishing crews -- led by the OffShore Canoe Club of Newport Beach, Caiifornia -- broke the existing record set in 1990. OffShore set the pace, crossing the line in five hours 24 minutes 32 seconds, an amazing 20 minutes 29 seconds off their record.
OffShore jumped into the lead at the start at Moloka`i Ranch's Hale O Lono Harbor and never relinquished it as they headed for Diamond Head and the beach at the Hilton Hawaiian Village in Waikiki. Behind them Outrigger Canoe Club and Kailua Canoe Club, from Oahu, battled to catch up. Directly behind them was Lanakila from Redondo Beach, California; Kai Opua from the island of Hawai`i; Oahu's Lokahi and Australia's Umbi Gumbi(Aborigine for Surfer's Paradise). All of them finished under 1990's record of 5:44:13.
Steering the Offshore canoe across 41 miles of open ocean was veteran paddler Mindy Clark who now lives in Big Bear, California.
"It was fast, especially coming off Koko Head. Just fast! In the beginning there was a little wind and then it died and then came back," Clark said. Clark has paddled all but one race since the event began 17 years ago. When asked how she felt today, she said: Like I paddled all the way through." Other crew members are: Sheila Conover. Sharon Attlesley, Gina Aubrey, Dru Van Hengal, Cathy Ho Whitford, Anna Olson, Agneta Anderssen, Vicki Mills and Jo Jo Toeppner. Toeppner has paddled every race since 1979. Mills is the only rookie in the crew.
Outrigger Canoe Club I was second overall in 5:31.09. They were caught up in a starting line "log jam". Veteran steersman Kisi Haines said: "Once we got undone, we moved pretty well. We hung with OffShore for a while and then took a more northerly course. It was kind of corky, we were bouncing around off Koko Head, but they (OffShore) were just better today." Other crew members were Nicole Wilcox, Donna Kahakui, Lisa Livingston, Dana Cliifford. Traci Phillips, Mary Smolensky, Sara Ackerman, Pam Clifford and Kaili Chun.
Kailua Canoe Club was third with 5:36.00. Crew members were Donna Meyer, Makanani Wong, Karen Kiefer, Connie Johnston, Lesline Connor, Sheila Beahm, Sandy Combis, Kathy Irwin, Loretta Toth and Kathy Colin.
Waikiki Surf Club I finished first in the koa division and ninth overall in 5:51:43.
Race director and co-founder Hannie Anderson commented that the race continues to grow. "Women's canoe paddling has come a long way. This race draws more paddlers each year, and we are seeing more interest on the mainland, as well as internationally."
Twenty years ago two crews of 18 women each rocked the paddling community when they crossed the treacherous Kaiwi Channel between the islands of Moloka`i and O`ahu, proving that women could do it. This year many of the same women in the original crossing proved a second point: Canoe paddling is a lifelong sport. They reformed their 18-woman crew and named themselves Hana Hou(encore in Hawaiian). These women, who are now in their 60s, trained with their original coach. Richard "Babe" Bell, and retraced their historical route today, finishing in an unofficial 6:37:58. At one point, their canoe was swamped and overturned. They righted it and continued paddling, still finishing 47 in the field of 49. They did not receive an official time because today's racing rules allow only 12 crew members in the masters divisions. Because of the historic nature of their crossing, the women and their coach elected to disqualify themselves by using all 18 crew.
Channel conditions were excellent with a 1 to 2 foot following sea and light tradewinds.
The Bankoh Na Wahine O Ke Kai is the world championship open ocean outrigger canoe race for women. The Bankoh Moloka`i Hoe, the men's race, will be held October 8, with nearly 100 teams expected to participate. Both races are sponsored by Bank of Hawaii, Hawaii's largest bank with offices in the Pacific, Asia and U.S. mainland.
For more information, call Piia Aarma, Bank of Hawaii (808) 537-8660. For information on the internet the address:http://holoholo.org/hoe
Last Modified : Sunday - 09-24-95 - 2045 HST
Copyright © 1995, HoloHolo Internet Publishing, all rights reserved