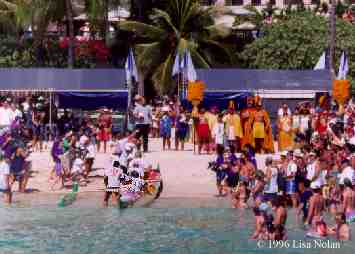 Honolulu, Hi (September 29, 1996)
The women of OffShore Canoe Club paddled to their tenth victory today in the Bankoh Na Wahine O Ke Kai. The California crew crossed the Kaiwi (Moloka`i) Channel in six hours 46 minutes and 33 seconds. This time, while well off the 5:24:32 record they set last year, enabled them to retain their grip on the prestigious long distance women's outrigger canoe paddling championship.






A record 52 crews left Moloka`i at 7:32am, and completed the crossing on flat seas fighting adverse currents and headwinds all the way. Many seasoned paddlers said the conditions were the strangest they had ever seen in the channel.



"It was hard; it was long. Billy (Coach Billy Whitford) just kept saying it was gonna be a grind; give it all you've got now," said OffShore crew member JoJo Toeppner, who has raced all 18 women's events. "The things he said to us totally fired us up," added Toeppner, 38, who hails from Truckee, Calif., and has competed in all 18 races with the all star OffShore team made up of Olympic and world championship paddlers.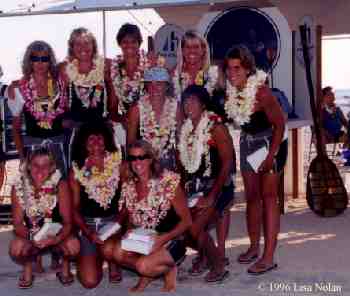 Other OffShore team members are: Cathy Whitford, Honolulu, Hawaii; Gina Aubrey, San Clemente, CA;
Julie Wolfe, Lancaster, CA;
Vicki Mills, San Clemente, CA;
Donna Meyer, Honolulu, Hawaii;
Anna Olsson, Karlstad, Sweden;
Sharon Attelsey, Newport Beach, CA;
Dru Van Hengal, Santa Barbara, CA; and
Mindy Clark, Big Bear, CA. Clark, the steers woman "went iron" paddling the entire distance without a substitution.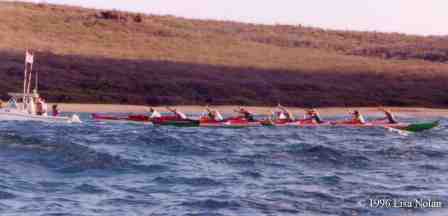 "We were behind, but we took off fast and had a great start, and half way out to Laau Point (Moloka`i), Outrigger passed us and got a couple of boat lengths on us," Toeppner said.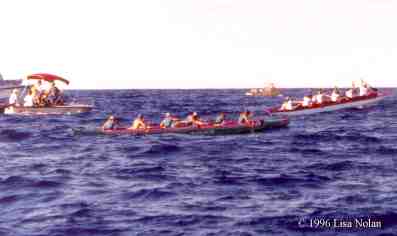 "Once we were past the point, we slowly wound them back in. We didn't think about it being our tenth win until we reached the finish buoy."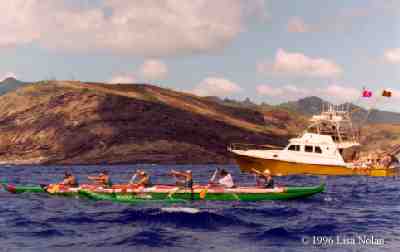 Their finish time was the third slowest of all the races , and Clark summed it all up: "Long. Very long race and I steered all the way. I'm not as sore (as before), I'm more tired because it was pretty even, you're able to paddle on both sides. There was a little chop and wind coming from the ama side. It wasn't that uncomfortable the whole way. It was a good race, everybody all paddled hard and when we merged (at Kokohead), no one knew who had the better line. We just put the hammer down and paddled hard to get in."
The finish line was at Duke Kahanamoku Beach at the Hilton Hawaiian Village in Waikiki.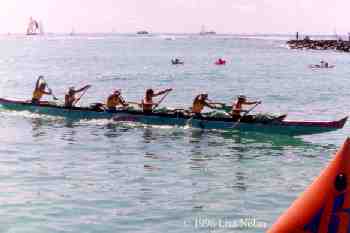 OffShore was followed across the finish line approximately five minutes later by Australia One in 6:51:41. Hawaii's Outrigger Canoe Club (OCC) #1 finished in 6:52:03.
"We paddled hard the whole way," said Australia team captain Lisa Curry-Kenny from Sunshine Coast, Australia "OffShore got away from us a little bit. We just couldn't catch them, they were too good. But we had a great race at the end with Outrigger."
"It was the best finish Australia has ever had so we're really, really happy," she added, as fellow Australians sprayed the crew with champagne. "It was great, we had a great time and it's the best result Australian women have ever had, so we're really, really happy.
"It was a pretty straight out race with a side wind the whole way, "Curry-Kenny said. No problems. The girls pulled together really well and we had a great time. We're glad we're finished though.
"I think maybe it might take us one or two years to get the hang of it, but for a crew that's only paddled together once or twice before we came over here I think we pulled together really well. We'll definitely be back next year."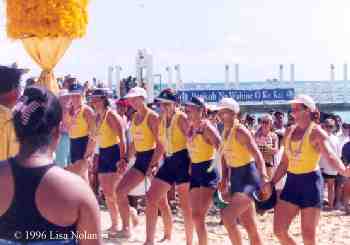 Like OffShore, the Australian crew is made up of a team of all stars who live in different locations and can't practice together often. Crew members were: Amanda Rankin, kayak trialist for the 2000 Olympics, Gold Coast; Brooke Harris, rated 9th in world championship marathon paddling, Melbourne; Belinda Gibbon, national surf boat rowing champion, Sunshine Coast; Katrin Borchert, bronze medalist in the two-person kayak event and three-time Olympics participant, Gold Coast; Robyn Singh, national paddling finalist, Gold Coast; Michelle Miller, national kayak paddler, Gold Coast; Edie Carroll, national rowing representative; Sydney; Shelley Oates, K4 Olympic finalist, Sydney; and steers woman Jane Hall, world surfski champion and three-time winner of the Bankoh Kayak Challenge, Sydney.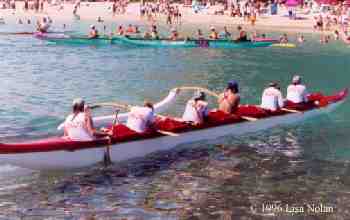 Having won several major long-distance competitions this year, Outrigger Canoe Club took their third place finish hard. Nine time channel veteran steers woman Kisi Haine said: "The wind didn't help at all, there was no real push. We were hoping for a little more wind but it took us almost seven hours and the record's about 5:25. So...it was a hard race. This was definitely the hardest. My arms are sore; my hands are blistered.
"We were a little bit ahead in the very beginning," Haine said. "Then they (OffShore) came ahead of us. We stayed by them and we went to the right and they stayed south and Australia followed them, and when we all converged Australia was probably two or three boats ahead of us and OffShore was gone. We pushed to catch up with Australia but we couldn't get 'em." OffShore and Australia paddled a better race today. Our hats are off to them and we'll be back again next year to try it again."
"It was a muscle race, the water was against us, the waves, the wind, tide, everything," said coach Al Ching from Lanakila Canoe Club in Redondo Beach, Calif. "We started out really well, we were third and it was a toss up between us and Australia, but after about 1-1/2 hours Australia started to lose us. It was terrible conditions. We held forth until Kokohead and then we got passed by three boats. It was kinda heartbreaking, but that's racing. Some days you win and some days you dont." They were eighth overall in 7:16.49.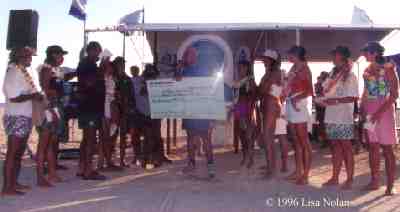 Lanikai Canoe Club #1 paddled the first koa canoe to cross the finish and pick up the $1,000 purse donated by Chris Faria for the first to finish in a traditional Hawaiian canoe. At 11th overall, their time was 7:26:13.
"I haven't had time to think about the prize, but it will be great for the women's program. " said Kaui Pelekane. "Everybody worked hard, there were small bumps (waves) but basically flat, so everybody worked hard the whole way."
"It is a testimony to their strength and perserverance that every crew entered finished the race," said race director Hannie Anderson. "Regardless of whether they are Hawaiian or not, or where they came from in the world, they are every ounce Na Wahine O Ke Kai."
For more information, contact:
Piia Aarma - Bank of Hawai`i
Phone: 808-537-8660
Fax: 808-537-8440
The men's Bankoh Molokai Hoe is on Sunday, October 13, 1996. It starts at 7:30am and finishes at Fort DeRussy Beach, in Waikiki. For race information, please contact Joan Malama: 808-261-6615.