Live From The Moloka`i Channel
Provisional Results Final Results up in a bit
time now: 1433 HST
At 1229 HST with 1 mile to go to the Diamond Head buoy - with appx 45 mins to the line - it's still Panamuna out in front, Offshore & Outrigger 1(haw) appx 3/4 mile behind and rest of the pack is way back..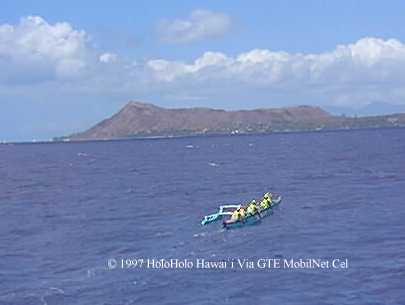 The Aussies heading for Diamond Head - paddling strong & steady
---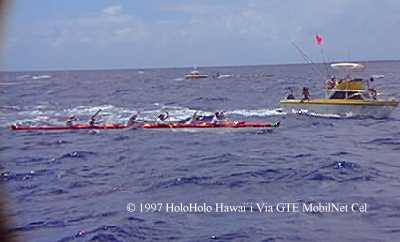 Outrigger 1(haw) is ahead of Offshore here - not for long tho, as they quickly made up the lost ground
---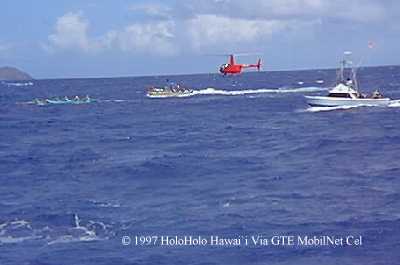 KHON? on the media boat with the copter filming Panamuna(aus)
---

Offshore recovered with #5 bailing furiously as Outrigger pulls up along side & passes.
---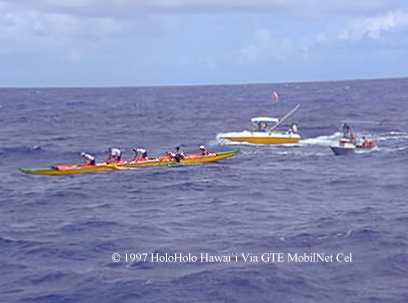 Offshore changing just seconds before they hulied, with Outrigger just behind.....
---
At 11 At 1059 with appx 10.6 miles to Diamond Head, it's still Panamuna(aus), followed by Offshore, overtaking Outrigger(haw) just a few minutes ago.... with Hui Nalu appx a mile back, followed by (in a pack battling / changing often) Healani, Outrigger Mstrs, Kai Elua, Lanikai, Lokahi, Hawaiian, Wailua Kayak Club...
in the Koa Div, it's Lanikai, Waikiki Surf Club, with Keahiakahoe (Hawn for "blazing paddles")....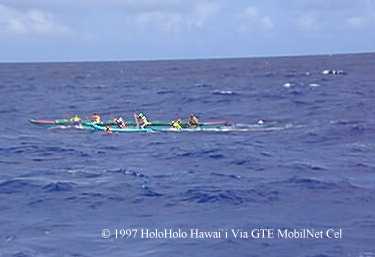 Panamuna changing 3 at 12.8 miles to Diamond Head
---
at 0959 - with 16.4 miles to Diamond Head - it's still Panamuna(aus) widening their lead in front of Outrigger 1(haw), with Offshore gaining on 'em now still in 3rd, only a few lengths behind - back appx 1 mile in 4th it's still Hui Nalu(?), followed by (it appears outrigger 2(haw) with the rest of the pack way back.....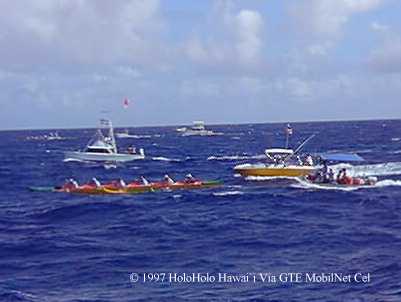 Outrigger 1(haw) in upper L center, with Offshore in the fore
---
At 0909 HST Australia's Panamuna is ahead of Outrigger Hawai`i by appx 30 canoelengths, with Offshore just behind in 3rd....
in 4th it's hui nalu
5- healani
6- outrigger 2
7- lanikai 1
8- koa kai 1
9- lokahi 1
10- hawaiian(maui?)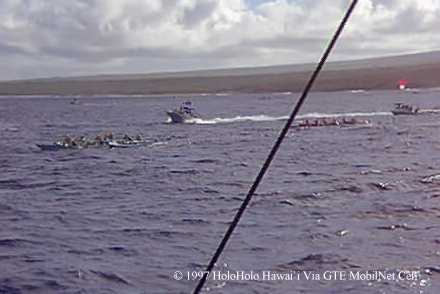 Panamuna just ahead of Outrigger Haw at Laau Point just after 1st change