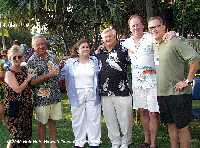 From left: Debby Rorie, Jeff Burton, Susan & Randy Ward, LP3 with Doug Rorie
of The World Famous Rorie & Lyle Clothiers and Backdoor Bar in Raleigh NC

here we have Brad "Mr Alcatel" McCain, Roger "Panthers" Goss,
chatting with Peter "The Chairman" Fithian
and Jeff "Buttons" Burton, in a fairly LOUD aloha shirt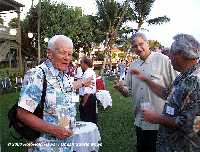 The Chairman directs us to the grand dame of Kona, The Kona Inn
where the whole thing started some 43 years ago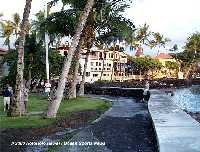 she hasnt changed much over the years and is still lookin good,
situated here on Kailua Bay, tho HIBT HQ is now at the King Kamehameha Hotel, just up the road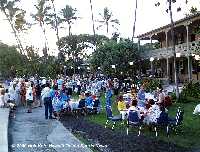 considering there's only 25 teams entered this year, it's still a good crowd here at The Palace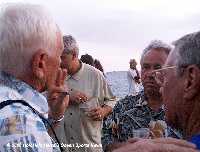 The Chairman holds what could be the single most valuable catch at the HIBT
the drink tickets - taunting Jeff, looking VERY serious here now....

finally! - we get the whole group together -
with a cameo appearance by Miss Billfish even!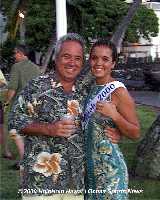 just couldn't resist this one, eh Jeff???
all eye can tell ya, is - it's a good thing (for you, buddy) that I went home!

uh oh.... Steve Bolick Jr has just gaffed Miss Billfish....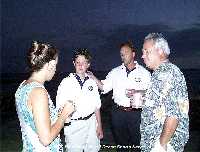 Bolick Sr coaches the kid, while Buttons angles for attention ;)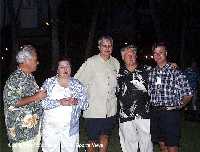 the party kranks up a notch as the sun slips into the Pacific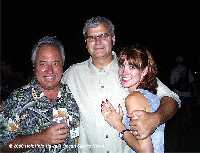 Buttons, always good for a shot - moves in as Brad clutches Shelly