These pages/photos brought to you in part by:



Have Greeters of Hawaii meet your paddlers at the airport
or The Finish Line with a fresh & fragrant Lei

SEE: Star Bulletin News Item (31May99)

Results Board:
Teams -|- Kayaks -|- OC1s

1st Woman (and her 6th time in the Winners Circle :)
Kelly Fey finishing 34th overall in the kayak div at 4:20:48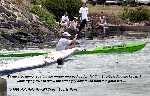 Wayne German (who gives us one of the best action shots ;)



Maile Chong, 2nd in the womens open kayak division


1st Woman OC1 - Outrigger CC's Donna Kahukui
breaks her own record, sets the pace at 5:11:14
Read about another record she set - 130 miles in 36 hours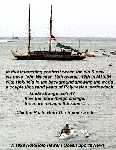 John Wacker shown with Hokule`a in the background


Meanwhile.... back at center stage


Here's a better shot of Kelly Fey as she gets lei'd ;)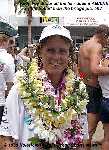 For the 6th time in a row! - Kelly Fey WINS!!
The Starbucks Molokai Challenge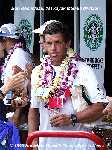 Bob Rocheleau finished 31st overall
1st in the Sr Mens div
and in 95, was awarded a very special trophy (scroll down)


but the real hero (of the party) was the Frappucino Man ;)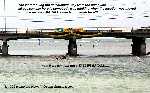 and who made the decision to move the finish line?
GOOD THINKIN!! whoever it was.....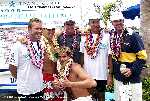 and - once again....
the good ole Aussies WIN the buggah!! (Team Award)

If anybody has comments - or - pix of the awards etc
Email
and we'll link em or upload em right here...
---
Full Official Results (text) from Kanaka Ikaika
Kanaka Ikaika Main site
The story from last year (98) and the year before (97),
with full 97 results and the year before that (96)
and the year before that (95) and all the years before that
Had nuff yet? (eye didn't think so ;)
So here's a short history of the race