Bankoh Kayak Challenge
Gardiner Leads Australians To Win
Nalu Kukea Leads Hawaiian Racers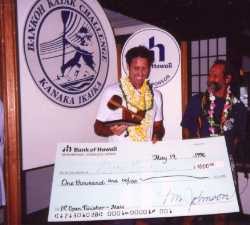 Honolulu Hi: (5/19/96)
A strong and fit Dean Gardiner led his Australian teammates to a first overall in the 20th annual Bankoh Kayak Challenge.

Gardiner, 31 from Sydney, placed first in 3 hours, 38 minutes, 27 seconds, taking his fourth win in five years in this world championship open ocean surfski race. He was first in 1992 and 1993 and set the existing record, 3:24.08, in 1994. In 1995, South Africa's Oscar and Herman Chalupsky won.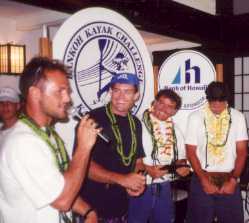 Second and third also went to
Australian paddlers, Brad Kane, 3:41.41,
and Martin Kenny, 3:43.09.
These three, along with Ian Rowling
who finished fifth in 3:49.28,
won the McCabe Hamilton Renny team trophy for Australia with a total time of 11:03.17.
Fourth overall and first Hawai`i finisher was Nalu Kukea, 3:45.00. First female Hawai`i finisher was Kelly Fey, 4:23.09. This is Fey's third consecutive win - she set the record of 4:12.34 in 1994.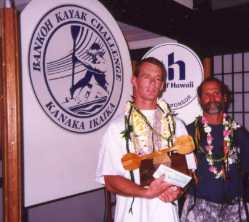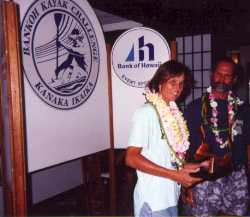 Kukea is the son of well-known paddler, Kala Kukea who died of a heart attack in February. The race was dedicated to his memory. "Near the end I was emotional, but during the race when it's rough you gotta to concentrate on the waves and paddling."
"I thought the channel was quite good today," Gardiner said of the frequently tempestuous Moloka`i Channel. "The only bummer was we weren't able to see O`ahu. It was under a big white cloud so we headed further north than usual."
The 32-mile race starts off the beach at Colony's Kaluakoi Hotel & Golf Club on Moloka`i, crosses the dangerous Kaiwi Channel, and finishes on O`ahu at the Koko Marina Shopping Center.
Martin Kenny, 28, from Queensland, said: "When I finally saw Diamond Head, I was in shock." Kenny has raced the course a dozen times in both surfskis and outrigger canoes. "There were some dead spots and it wasn't as good at the start as I thought, but the last bit when we surfed down the coast was heaps of fun."
When asked if win number four was the best, Gardiner replied: "This is pretty sweet after last year's race (Gardiner injured his shoulder and had to pull out). I wish Oscar and Herman were here this year."
Kukea said: "I haven't trained as much as I should have, but it was great to race. The wind and waves on the course played a big part in my placement and I was surprised how far north the Australians went."
The race fielded a record eight women in the surfski division and for the first time ever, two entries in the one-person outrigger canoe. Kelly Fey finished nearly 10 minutes ahead of Tahiti's Nicole Montel, 4:41.31. Third place finisher was Noelani Sawyer from Moloka`i, 4:56.01.
"It's just a lot of fun, I feel fortunate (to win)," Fey, 35, said. "Conditions were really good all the way until Portlock Point about a mile from the finish. Coming home, the wind was against us. There was lots of surf out there and with the surf the way it was, you can last a little bit longer. You could surf a couple of hundred yards. Conditions in the channel were ideal for surfski paddlers with five-to-six-foot swells and a gusty 15-20 knot trade winds."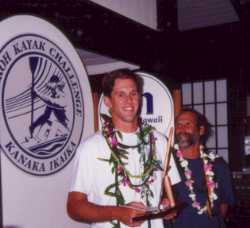 First in the men's one-person
outrigger division was Hawaii's
Mark Rigg, 39, finishing at 4:17.35,
for a new record time .
First in the women's division was
Sonia Lambert, 25, from O`ahu.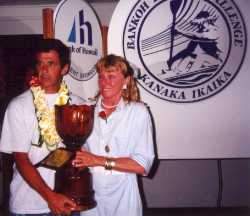 O`ahu's Bob Rocheleau, 50,
claimed the title to the first presentation of
the Kala Kukea Perpetual Trophy
donated by Carol Hogan/Ocean Promotion
and presented by Carol Kukea for the first
Hawai`i finisher in the 50 and over division.
A total of 70 paddlers from Australia, Tahiti, Venezuela, California, Japan, South Africa, Guam and Hawai`i started the race; 68 finished. The cut-off time for reporting finisher times was 3 p.m.
The race is sponsored by Bank of Hawaii, the states largest financial institution and organized by Kanaka Ikaika, the oldest kayaking association in Hawai`i. Bank of Hawaii also sponsors the world championship men's and women's outrigger canoe races, the Bankoh Molokai Hoe and the Bankoh Na Wahine O Ke Kai.
For more information: Please call Carol Hogan, Ocean Promotion
(808) 325-7400 or
Piia Aarma at
Bank of Hawaii (808) 537-8660
Satellite feeds of the race were made available courtesy of Bank of Hawaii.
Hele On Back
Copyright © 1996, HoloHolo Internet Publishing, all rights reserved
Page designed by Mutha 05-19-96