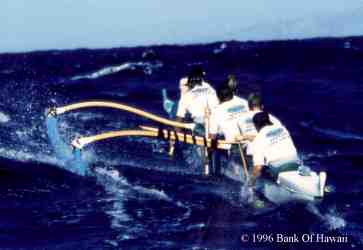 Honolulu, HI (October 13, '96) Lanikai Canoe Club led a flotilla of outrigger canoes across the Kaiwi Channel today, successfully defending their title in the 45th Bankoh Molokai Hoe. Their time was five hours,15 minutes, 42 seconds, nearly 23 minutes off their 1995 record of 4:53.03.





Second in the 102-canoe fleet was Waikiki Surf Club, 5:18.06. followed by Tahiti's Faa`a who finished in 5:22.12.

The world championship of outrigger canoe racing starts at Hale O Lono Harbor on Molokai and covers 41 miles of open ocean including the most treacherous channels in the world.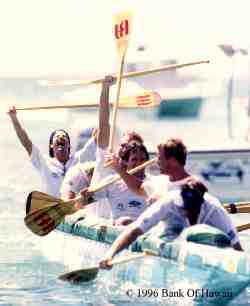 "It's an unbelievable feeling to be able to pull it together for another year," said Lanikai crew member Bo Estabrooks. Lanikai fielded the identical crew this year as last: James Foti, John Foti, Kalani Irvine, Richard Lambert, Bobby Nottage, Rock Owens, Michael Pederson, Michael Smith, and Estabrooks.
"We had a good start. Tahiti (FAA'A) was ahead of us. Waikiki Surf Club was ahead of us. We kept our pace and by the time we passed Laau Point we were even with Tahiti. We just speeded up and passed Waikiki Surf," Estabrooks added.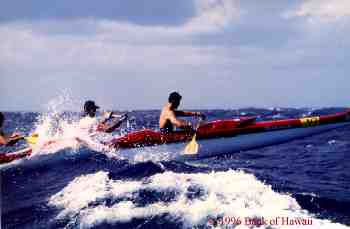 Channel conditions were challenging with swells ranging from 6 to 8 feet and winds gusting to 30 knots. There was little relief between swells and steersmen had to fight to keep on their course. Even though there were following seas, an adverse current forced many crews to steer a more northerly course. When the tide began to change around 11 a.m., the steersman could turn south taking a more direct route to the finish line at Fort DeRussy at Waikiki Beach.
"There was wind at our back and surf, but the current was against so it was real physical," said John Foti of Lanikai.
"We got some good surf off Laau Point but it turned on us and we had a hard time dropping in (the waves) after that," Foti added.
"The changes were all right. We had a couple of goof-offs, a stuck zipper and a wave that tweaked you just before the pick-up. But we made it through without any problems," Foti said, describing the difficult open ocean crew changes for which this race is famous.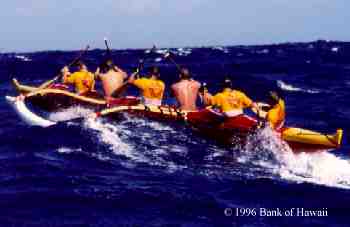 Billy Balding steered the Waikiki Surf Club to its best finish since their 1972 first place finish. "We led for a mile or so. We were about a 15 miles off shore and Lanikai saw us surfing. They dropped in on us and started surfing with us, put together an excellent change, came up, passed us, started a bit of a gap and sustained that," Balding explained.

"We went north off Laau Point, they went south. I feel we took a good route, they had a stronger crew. We put it together at the end but it just wasn't quite enough."
Karyl Monai of FAA'A said: "We were in front first, then Lanikai caught us. They got to Laau Point first and they're so good at surfing their canoe and we just couldn't catch up."
Australia's Mooloolaba from Queensland finished ninth and was the first masters' crew to cross the line for the third year in a row. Their coach is Jason Sommerville-Kimlin. "Considering we've done the channel a few times, we wanted to try and set our own course which we did. We were very surprised when everyone went so far north. We had boats that were with us at Laau Point and we're still waiting for them to come in now," Sommerville-Kimlin said at his finish. "Obviously the course played a really big part in the crew's success. And also, it's their background experience and training as well that helped them get through."
The race is sponsored by Bank of Hawaii and organized by the Oahu Hawaiian Canoe Racing Association.
For more information/or to purchase pictures or video for media use, contact:
Carol Hogan/Ocean Promotion - or -
Piia Aarma, Bank of Hawaii
Phone: 808-537-8660 - Fax: 808-537-8440

The Internet address is: http://www.holoholo.org/hoe/