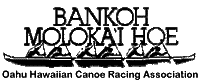 (not quite ;) Live From The Finish Line
Results by Order of Finish
Scroll DOWN for LOTS MORE pix
Lanikai 1 finishing 2nd at 5:17:25
just 2 secs/mile behind Outrigger Haw!!

---
Team New Zealand crossing the line 3rd at 5:19:42

---
Outrigger Australia in 4th at 5:22:32

---
Rangiroa's Tapeatia in 5th at 5:23:32

---
Tahiti's Maitai Shell 1 in 6th at 5:25:22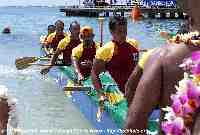 ---
Kai Opua was 7th at 5:27:03

---
Waikiki Beach Boys 1 in 8th at 5:29:46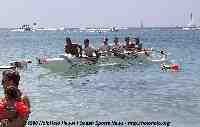 ---
Tahiti's Hinano Hoe in 9th at 5:31:07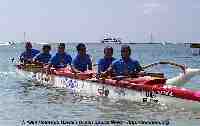 ---
Waikiki Surf Club finished 10th in 5:31:45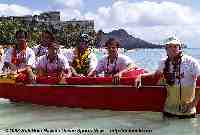 ---
---
---
---
Finishers 11-30 to follow...
---
If anyone has shots they'd like to share here


or can HELP WITH ID's, please...
Email em - prefer JPG - 600-800 pixels wide
Not sure what this means?? See: Page Viewing Guidelines
---
News & Results from past races
'97 Race -|- '96 Race -|- Prev Wins/Times
Position Reports from out on The Channel provided by:
Maggie Joe Sportfishing



And by
GTE Wireless WebXpress
---
Moloka`i Hoe participants, friends & ohana:
Lei Greeting Services
are Available for the airport and hotels




Greeters of Hawai`i will ship FRESH CUT
Hawai`i Tropical Flowers & Leis
and they LOOK GREAT for WEEKS instead of days!
Why send roses? when for the same price you can send ORCHIDS!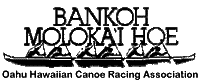 Back to the Race
Last Modified: 19981019.0959 HST Monday
Copyright © 1995-98, HoloHolo Internet Publishing, all rights reserved.