Kenwood Cup Buoys Economy
Hawaii Ocean Industry and Shipping News - August 96

by Carol Hogan

Ala Wai Small Boat Harbor is always a lively place, but every even-numbered year it comes alive with the sights and sounds of racing yachts and crews rigged and ready for the first race of the biennial Kenwood Cup Hawaii International Offshore Series. The 1996 10th biennial series begins August 5.

Throughout the harbor you'll see national flags on the sterns of the state-of-the-art racing yachts entered - and from a halyard the Kenwood burgee - signifying participation in one of the most prestigious offshore race series in the world. Wherever you walk you'll see sailors from foreign countries. Close your eyes and listen. You could be in a harbor in Canada, Australia, Japan, Europe or New Zealand.

Also "rigged and ready" are Hawaii's marine-oriented businesses and other involved merchants and sponsors who view the event as a major boost to their bottom line. Estimates are that the several thousand sailors, spouses, significant others and volunteers who attendant the event deposit a healthy $20 million into Hawaii's economy by way of goods and services in the various sectors.

An obvious one is Ala Wai Marine, Ltd., that "little boatyard in the corner of the harbor" that does a booming business year 'round.

"During the Kenwood Cup production of the shop probably doubles while they're here," said yard manager Steve Lewis. "Year around we're usually backed up to what we can hold but they push us into overdrive."

Lewis explains that with space limitations and high overhead he can only employ a specific number of carpenters, welders and painters. "Where Kenwood really helps us out is retail sales. I get to sell more merchandise, more clothes, blocks, racing gloves, and foul weather gear.

"Granted we'll do extra welding, carpentry work, etcetera, so instead of working an eight hour day we work 12 hour days during Kenwood Cup." For the individual yard employee that trickles down into overtime, a scarce commodity in a flat economy.

"We don't normally work Saturdays unless it's an emergency," Lewis said. "These guys come a long way and spend a lot of money and the least we can do as merchants is provide them with aloha. In other words, stay the extra hours on the weekend and work overtime. They remember that and when they have a chance to go to other races, they remember they had a really good time at Kenwood Cup and that helps them to determine where they're going to go to their next regatta. We want them back."

High-Tech Showcase

Kenwood On-Line
Follow the Kenwood Cup series on the Internet via the new sailing "e-magazine," World Voyager. Information about each yacht and race results can be found at http://worldvoyager.com/races/ The recent Pacific Cup and Victoria to Maui race results also are featured.

The Kenwood Cup has put Hawai`i on the map in serious international yacht racing circles and showcases the state-of-the-art in sailboat technology. Just ask Larry Stenek, who has been with Art Nelson Sailmaker for 27 years and seen a lot of changes around the sailing community in Hawai`i.

"The last couple of Kenwood Cups, and this one, it's become a pretty professional race," Stenek said. "Our sport is finally making the painful break from amateur to pro so the boats come real well prepared. The IMS (International Measurement System) boats with masts built to carry rope don't wear the gear out like they did before. They're lighter, easier driven and it's easier on the gear so we don't see the gear failures unless it's catastrophic."

How does this affect the sail makers? They don't stay up all night repairing broken halyards but they do sell rope in bulk instead of by the piece.

Change dictates innovative ideas so several years ago Nelson developed with North Sails a traveling service loft.

"The Kenwood Cup Service Loft will be real busy," Stenek said. "Three people will show up to do nothing but work on Kenwood Cup boats, and that way the regular loft can continue to service the local boats.

"What we tend to see, especially with the maxis, is obviously a lot of sail work," Stenek said. "At the same time, you see the local sailing community get real excited. They want to upgrade and get repairs, get new rigging, and do all the stuff they should have done the last year or so."

Stenek draws an analogy: "It's like going to a pro baseball game. You tend to buy a lot of souvenirs. If you're interested in sailboat racing you tend to buy new gear for your boat and we see a tremendous upswing in the business."

Kenwood delivers Nelson a subtle benefit, too. Suppliers look at Kenwood Cup as an in-the-water boat show giving them a chance to display new gear, and Nelson an opportunity to see what their suppliers are doing. For example, Harken has developed a two-tier winch that's not even on the market yet, which Nelson will have in the shop.

"The racers will look at them and say 'wow,' and go back home and buy them," Stenek said. "So on the hardware side, we tend to gear our hardware to what they'll need. With the race publicity and especially with the maxis coming, that benefit increases. The amateur sailor doesn't have to spend the time and money traveling to boat shows; they're here."

About three weeks before the races business for Nelson begins to increase. Lately, though they've been swamped. "More than half our business is non-recreational marine, but we've been real busy on the marine side and nobody has an explanation," Stenek said. "We've seen a lot of repair business and a lot of it is work that was otherwise put off because of hard times. Now a lot of people are coming back. And, given the state of economy, we are blessed - we do have work."

Non-marine businesses involved in Kenwood Cup see it from a different perspective. Although they can't always measure the financial benefits they participate for other reasons.

"We are a sponsor of the event and I think how it benefits the state is probably most important," said Dexter Suzuki, marketing director for Ala Moana Center. "Because we're surrounded by a body of water Hawai`i remains a destination based on its natural resources and its ability to host something like this."

"Any visitor coming out to the middle of the Pacific Ocean should have all the comforts and conveniences of a vacation. That includes not just a place to stay but a place to be entertained and do shopping," Suzuki said. "Certainly Ala Moana Center plays a role in the shopping aspect, so of course it behooves us to be a part of the event. I feel it's an opportunity that I don't want to miss, that's why we're a part of it."

"It's difficult to identify if the people coming in for this are the ones who are shopping here," Suzuki said. "So is any kind of advertising we do so we don't know what the real impact will be. But we feel it's part of goodwill, and it is good business sense that if this is a group who can afford a yacht they can probably afford a diamond ring or a new watch. We'd like to be their shopping destination."

"The Kenwood Cup has been very good to us, too. They have certainly taken us up on the opportunity and gone out of their way to produce flags for us to fly, and little flyers to hand out to all of the tenants. It's been a reciprocal arrangement, a real partnership," Suzuki concluded.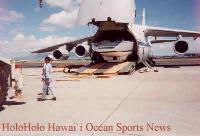 Two if by Plane
The arrival of two Maxi yachts on
this Russian Antonov cargo jet from Rhode Island
was a Kenwood 'first'.
Shopping and sailing have something in common. Both are clean industries - an important environmental element in Hawai`i. Although more malls are developed to satisfy the shopper, marine recreational facilities' development lies dormant despite sporting events like the Kenwood Cup, that bring people to Hawai`i.
Carol Hogan, President of OceanPromotions , has been writing about and playing in Hawaii's ocean for 28 years. She is the public relations director for the 1996 Kenwood Cup.
Hele On Back
The content of these pages, made available by express permission of -
and Copyright © 1996 Hawaii Ocean Industry and Shipping News; published electronically by
HoloHolo Internet Publishing - All Rights Reserved.