Missing The Mark
A Shortage of Marina Facilities
Limits Economic Opportunities
Hawaii Ocean Industry and Shipping News - August 96
by Mele Pochereva
When Race Director Ken Morrison tells colleagues in the yachting world that Hawai`i, with one of the longest coast lines in the country, has fewer boating facilities than the land-locked desert state of Arizona, they look at him in disbelief.
"Then when I tell them that the waiting list for slips for large boats in the Ala Wai Harbor is 5 to 10 years, they are even further taken aback," he explains.
Morrison, executive director of the Royal Hawaiian Ocean Racing Club and race director for the Kenwood Cup series, says that Hawai`i has some of the finest competitive sailing conditions in the world and could be generating millions of dollars for the local economy by hosting more international sailing events. However, the lack of adequate marina facilities in the state prevents expansion of this potentially lucrative activity.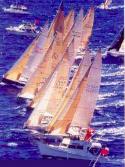 Currently, Hawai`i hosts four major international yachting events. The biennial Kenwood Cup Hawaii International Offshore Series, being held this month off Oahu, has grown to become one of the biggest revenue producers among sporting events in the state, according to Morrison. A 1993 study conducted by the Ocean Resources Branch of the state's Department of Business,Economic Development and Tourism projected revenues generated from this year's Kenwood series to exceed $20 million. More marinas could attract more revenue-producing yacht races and other boating activities to Hawai`i
Three "point-to-point" races conducted biennially generate a total of approximately $5 million for the state: the Los Angeles to Honolulu Trans Pacific Yacht Race , the Pacific Cup from San Francisco to Kaneohe, and the Victoria (B.C.) to Maui Race.
Each of these four events could generate even more revenues if the current shortage of marina facilities didn't limit the number of entries. More support facilities also could lure other kinds of yachting events not currently possible, Morrison predicts.
These include match racing series which attract the world's top racing skippers and a large following of spectators and media coverage. Held in locations all over the world, they allow sailors to maintain their skills for the "ultimate" match, the America's Cup.
One-design and Olympic class racing series are held in smaller identical boats. While attracting a large number of entries, they require a large number of boats of the same design in the local area. Right now, there is no place to accommodate such a fleet.
"With proper facilities, Hawai`i could become the venue selected for both regional and world championship events of these classes," says Morrison. "It is estimated that each of these events would produce revenues of $1.5 million to $2 million for local businesses."
Private Development is Key
With no plans for more state-funded marina facilities in the foreseeable future, private development is needed in order for boating to become a major part of Hawaii's ocean recreation industry. Morrison says. The only private, large-scale marina on the horizon is that planned by Haseko (Ewa) Inc. as part of its Ewa Marina residential/commercial project on O`ahu's south shore.
Expected to begin construction sometime after 1998, the marina facilities will include 120 acres of sheltered waterways, with 1400 boat slips. A full-service maritime commercial center will house a sailing club, chandlery and other marine related retailers, boat haul-out and repair facilities, restaurants, visitor accommodations and ocean recreation businesses.
Though still some years away from completion, such a facility, says Morrison, will enable the state "to attract many new sailing events that will increase the revenue production for businesses in Hawai`i far beyond the $20 million figure currently produced by the Kenwood Cup."
Hawai`i Round-the-World Stopovers
Two around-the-world yacht races will make Honolulu stops in January 1997, the first time Hawai`i has hosted such international competitions.

The Hong Kong Challenge, featuring boats of different designs, and the Clipper Challenge, featuring 56-foot-long same-design boats, both leave England this fall and head across the Atlantic, to circumnavigate the globe before finishing back in England. The two fleets are expected to spend about two weeks here, reprovisioning and making repairs.

Waikiki Yacht Club and Hawaii Yacht Club are the Hawai`i host organizations. For information, contact Doug Vann, chairman of the welcoming events (808)734-1085.
Hele On Back
The content of these pages, made available by express permission of -
and Copyright © 1996 Hawaii Ocean Industry and Shipping News; published electronically by
HoloHolo Internet Publishing - All Rights Reserved.