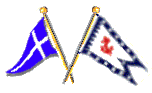 Mongoose (10th in)
Arriving Diamond Head Light at
02:58:37 HST Monday July 12, 1999
With elapsed time of:



Prev Arrival ~ Next Arrival ~ More Arrivals ~ Latest News ~ More News

Mongoose Has Arrived and The Party is Ready to Roll !!

Lyn Silva looks over The Spread, setup & hosted by Hawaii YC
which was probably THE most lavish of the bunch...

the lei's go a'flyin aboard.....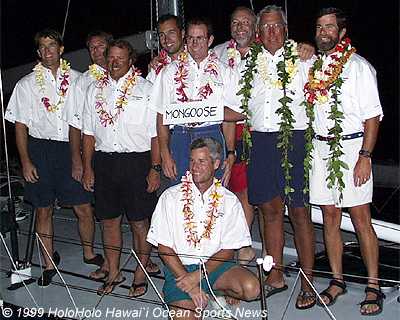 the Mongoose Crew lookin good in their best dress-whites
which also make for better pix during these late-nite gigs...

they come streamin off the boat

and it's Lights, Cameras.. and.... ACTION!!!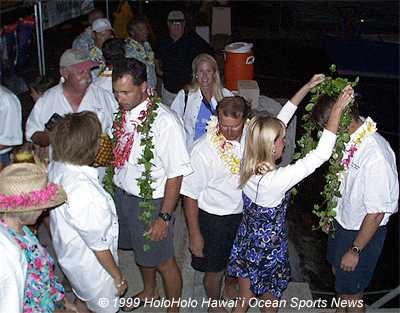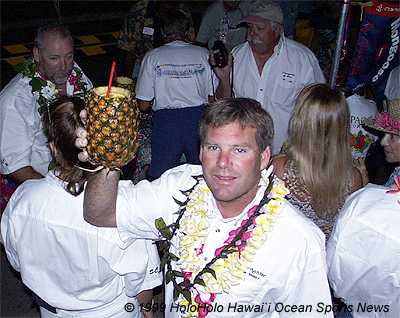 just gotta luv the pineapples filled with Mai Tais, eh?

this was QUITE the party, as anybody here that night
(that wasn't slugging Mai Tais) will attest to - for sure!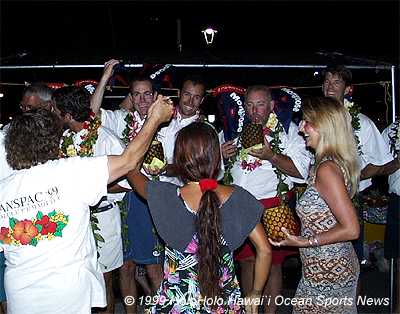 hail, hail - the gangs all here! - with Patty Deacon leading the chorus...

Ready.... Aim......and.... HOIST EM!!!

yeah, yeah, yeah - hold yer mongooses - don't worry, there's more...

a decadent display of conspicuous consumption or what??
now THIS is the way to do TransPac Row!

"you mean we hafta re-fill and re-DRAIN these things??"
Again ????
Next Arrival
ETA Logs ~ First to Finish ~ More Arrivals ~ Latest News ~ More News


HoloHolo Hawai`i Ocean Sports News
Last Modified: 19990711. HST Sunday
Copyright © 1999, and produced online by
HoloHolo Internet Publishing, all rights reserved