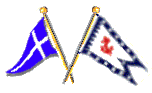 Pyewacket - 1st to Finish - RECORD Time
Arriving Diamond Head Light at
21:41:27 HST Saturday July 10, 1999
With elapsed time of: xx:xx:xx:xx



Latest Arrival ~ More Arrivals ~ Latest News ~ More News

Pyewacket bio-page

The New Pyewacket dockside at the Ala Wai...
would the word 'missile' say anything about this baby?

Robbie Haines yakkin it up...
and there's Jim Maselli's head there in the yellow cap

The Party is rippin along pretty good here,
tho kinda typical for the Disney gigs - it's quite the scene for these parts

hey! it's The Chef - Courtesy of Sarento's Top of The Ilikai
how's this for a little late-nite snack....
not bad, eh? - after 6 or 7 daze at sea, the grinds go fast
and even The Crew managed to get a bite....

here's Roy Pat.....

and here's Stan Honey and... um... err...
well... ahh.. have a look at the Pyewacket bio-page for the rest of em ;)

Roy Pat and Roy Disney - now these guys names eye remember..
it was just last summer they were here for the Pacific Cup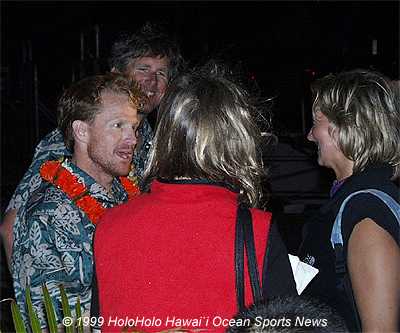 The Media Types move-in - there's Betsy Crowfoot there on the right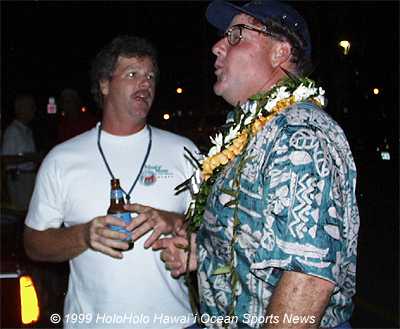 Fuzz Foster, Harbor Ops guy (aka North Sails Hawaii) mentions something to
Robbie Haines (aka North Sails San Diego) about some forms
not being filled-out correctly "and you've been DQ'd" - huh?
guess that's how them Big-Time sail pros get even with each other, eh?
"sorry, but that record-breaking run? - it's no good" - uh huh....
Next Arrival
ETA Logs ~ First to Finish ~ Latest Arrival ~ More Arrivals ~ Latest News ~ More News


HoloHolo Hawai`i Ocean Sports News
Last Modified: 19990711.1109 HST - Rip'n'rarin to GO on Sunday
Copyright © 1999, and produced online by
HoloHolo Internet Publishing, all rights reserved