"The Chicken" is IN... quite the crowd on hand here as they go by Hawaii YC

and look who's here for this one - it's them Hooter Girls

Da Chicken gets tug service pulling into the slip....
just as the sun heads west - and tho there wasn't much of a sunset,
at this point, we were glad it wasn't a sunrise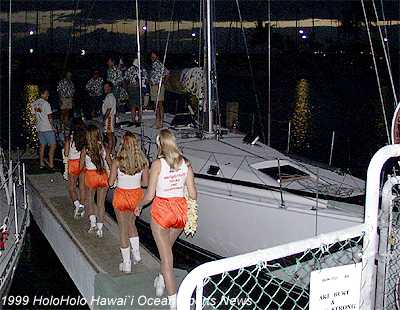 the Hooter Girls head out for their "mission of mercy"

talk about glamor here!...
after a 'sleighride' in the most luxuriously-appointed sled of em all
this crew even gets lei'd by the Hooter Girls!!! - some guys have ALL the luck, eh?

the girls head ashore, while the boyz heads spin from the thrill of it all

The Stealth Chicken Crew, freshly lei'd and ready to PARTY!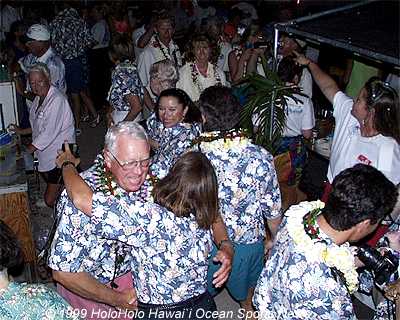 Skipper Jerry Montgomery gets the big squeeze from the wife? here

and we're off and runnin...... or was that Mai Tai'n?

Jimbo Maselli, our resident sail-expert - here with Jerry..
wasn't quite the finish they had last year on Ralphie
(and we never did get round to doing anything
with a great interview we did on Jerry last year - just no time :(
but maybe someday there'll be somebody who'll want
to help make $ure this kind of stuff happens, cuz one thing is for SURE
(some of) the newspapers around here won't ever be doing it....
sadly, as sail racing in Hawaii just don't seem to git 'the action' in the press....
prolly cuz there's NO BALLS or local ad revenue, I'd guess
anyway.... back to The Party for The Chicken.....

The Hooter Girls krank-up the Mai Tai machine (that orange cooler ;)

and here.. in the "asides-kine-news-department" - is Steve Fisher...
this guy has got Quite The Story about his transpacific event
and that's how he sailed to Maui from Calif - on a 'windsurfer'
check HIM out! - if that ain't impressive, I dunno what would be
so... the question is: does this feat qualify for Membership in The TPYC ?

yes, it was QUITE the scene here that night