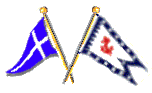 Glama (20th in)
Arriving Diamond Head Light at
14:45:55 HST Tuesday July 13, 1999
With elapsed time of:



Prev Arrival ~ Next Arrival ~ More Arrivals ~ Latest News ~ More News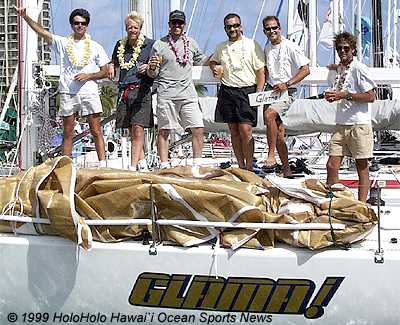 The Glama Crew with their very glamarous brandie-spankin-new boat

Rick Abille's Blue Diamond did 'follow-me' duty for this one
complete with a full crew of media types aboard...
from left, we got: TPYC Photog, John Davis, Rob Moore, of Latitude 38 fame
Ray Pendleton yankin the line and Rich Roberts supervisin...
Skipper Rick also helps run the Waikiki & Hawaii YC fishing tournies

whoa!!... hey!.. another glamorous duude there in that white car..
it's World Famous SoloCircumnavigator Brian "BJ" Caldwell himself!

The Glamarous ones finally get to whoopin it up...

now HERE we got some real Glama goin on...
tho why is it that looks like one o them "stage kisses" ?

meanwhile... back under the tent at Mai Tai Central
this gig being hosted and run by the Waikiki YC Canoe Team

the Mai Tai action fires up.. and man, did these grrls krank-em out!

the Proprietors here...
The Lady from Quokka on the left and WYC Paddler Lisa on the right

some of the WYC paddlerettes here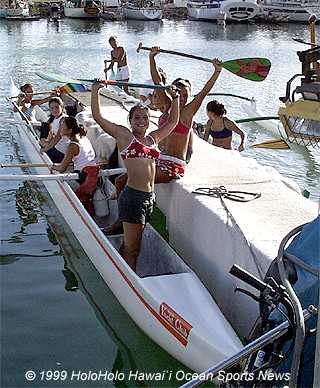 so... you think you can keep up with these kids (in a canoe) ?
think again, because some of em been strokin since they could walk
check out canoe racing from a kid's perspective

back to the Glama, where they're about to have the boom lowered on em
read: how many Mai Tais can you drink??
Next Arrival
ETA Logs ~ First to Finish ~ More Arrivals ~ Latest News ~ More News


HoloHolo Hawai`i Ocean Sports News
Last Modified: 19990714.0509 way too early HST Tuesday
Copyright © 1999, and produced online by
HoloHolo Internet Publishing, all rights reserved