Doug Vann, Sailor and TransPac Webmaster
memorial service Aug 13th at Hawaii YC
scattering of ashes off Diamond Head


Capn Doug's Tiare, The Red Boat, with his wife Sherry at the helm

Tiare & Crew heads for the starting line
the ceremony scheduled to begin at 1736 hrs - their usual Friday nite time

the procession begins.....

the best count on the number of boats was "better than 50"
with appx 600 aboard for the send-off

Tiare on the far right, her red battle flag at half-mast, with Golden Marlin up front
Capn Doug was also a surfer and he paid this webgeek one of the best compliments ever
for a set pix eye snapped on the day The Eddie went ...

Date: Mon, 4 Jan 1999 22:09:40 -1000
To: "lektrode"
From: Doug Vann
Subject: Re: (almost) live from waimea
Cc: Michael G. Vann, Glenn Magyar


Yo Danno!

Congratulations!!

Your Eddie Aikau slide show at http://holoholo.org/quikeddy/index.html
is the best surfing presentation I've (seen) on the 'net.

I watched all four TV channels Sunday night and thought the surfing looked ho-hum
(this from a guy who actually caught a few shoulders at Waimea years ago and I still treasure the experience).

So when I checked out your slideshow, I was blown away.
Not every pic was perfect, but you captured the excitement and energy of Waimea.

.....and I'll never forget that one, Doug - mahalo plenty.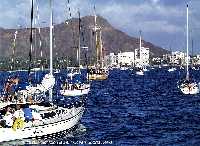 the fleet heads for calmer water in the lee of Diamond Head

Tiare stops, the rest of the boats circle slowly, as Kahuna Lyman begins his tribute
more tributes to Capn Doug from Glen Magyar & Ray Pendleton

Sherry begins the scattering of Doug's ashes.....

ALOHA `OE Capn Doug.......
the webgame won't be the same without you here any more :(...

Tiare ignites a ceremonial firecracker blow-off as the fleet heads back into the Ala Wai
for a party in his honor at Hawaii YC
Previous TransPac99 News ~ More News
HoloHolo Hawai`i Ocean Sports News
Last Modified: 19990814.1736 HST Saturday
Copyright © 1999, and produced online by
HoloHolo Internet Publishing, all rights reserved