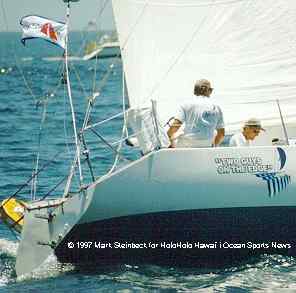 Honolulu, HI (July 4, 1997) -- Hawaii's only Transpac entry -- 2 Guys on the Edge owned by Waikiki Yacht Club's Dan Doyle -- has withdrawn with a broken rudder after one day of racing in the 39th Trans Pacific Yacht Race. Doyle and crew member Patrick Rogers were racing aboard Doyle's Sonoma 30 in the double handed division that started July 2.
Late yesterday Doyle radioed the Transpac Communications vessel Alaska Eagle that the boat had a broken rudder, was jury-rigged and headed for Long Beach "wet, but well" and hoping to get home on one of the boats starting Saturday.

"We're looking for another boat so we may get there yet," Doyle said. Initially, 2 Guys broke their rudder bringing the boat down from Seattle for the race and spent a week getting it repaired. They were using the broken rudder as a spare. Approximately 100 miles out, they hoped to be back in their Long Beach Slip by dinner.

Since not all of the fleet has started, yet, it is too early to calculate elapsed time for all the boats. But in today's position report the medical field sands out, with retired pediatrician Fred Frye's 52-foot Salsipuedes still leading the Cruising Division 1,206-miles from Hawaii. Pharmacist Bob Lane's 56-foot Medicine Man gained 106 miles on Frye's position and leads Division 3 with 1,808 miles to the finish.

In Division 4, Acey Deucy's position showed them with 1,916 nautical miles to go to the Diamond Head finish, an estimated nautical miles ahead of Silver Girl and Pegasus XIV , the all women's challenge skippered by Linda Newland .

"There's an interesting development brewing for tomorrow," said Steward Riley, Transpac Weather Chairman and long time volunteer for Hawaii racing. Both groups now sailing will have 20 knots of following winds and swells from the northeast as well. They could be windsurf the swells. The weather has turned around and will be fully developed by July 6."

With great weather to help them, Salsipuedes and Medicine Man could reach the finish line at about the same time.

According to Kevin Meechan, Honolulu Transpac committee chairman: "With an early start and a fast pace caused by an unusually strong weather system, a boat in the Cruising Division could cross the Honolulu finish line first. However, the Cruising Class is an Invited Guest class separate from the traditional racing classes and not eligible for racing class trophies (e.g., the Barn Door Trophy for first to finish on elapsed time). They will be racing for their own Transpac trophies."

Ironically, in international racing, some of the entries have to race to the start before they can race to the finish. The 86-foot catamaran Explorer is still nearly 500 miles from Long Beach on its way up the coast of Baja, California, while crew members Cam Lewis, Bruno Peyron and skip Novak anxiously await its arrival before the June 7 Multihull start.

"This is the first year that Transpac has officially recognized the Multihulls with their own division," Meechan said. "In 1995 they raced in the Invited Guest class similar to the Cruising Division this year."

RANDOM PICKS FROM THE TRANSPAC SCRAPBOOK:

The first yacht that ever came to Hawai`i was called Cleopatra's Barge . Taken by the luxury and furnishings of the craft rather than its seaworthiness or commercial value, Liholiho -- Kamehameha II -- purchased it in 1820 for $80,000 worth of sandalwood, and is credited with introducing yachting to Hawai`i.

Liholiho renamed the vessel "Haaheo O Hawai`i" (Pride of Hawai`i) and it soon became his floating palace - a haven to which he retreated when his court became too tedious. Wherever he dropped anchor became the Islands temporary capitol.

Haaheo O Hawai`i was notoriously unseaworthy and sank after hitting a reef in Hanalei Bay on April 5, 1824. The King was visiting England at the time and died of measles three months later.

The Transpacific Yacht Race was first conceived by King Kalakaua who charged Clarence Macfarlane with the task of introducing the idea to the Mainland. Macfarlane sailed to the West Coast and subsequently, in 1906 the first Transpac race started from San Pedro, California to Honolulu, but it wasn't won by a boat representing Hawai`i. Hawai`i celebrated the next race in 1908 when the schooner Hawaii, owned by a syndicate from the Hawaiian (sic) Yacht Club, won. Hawaii won again in 1910 but World War I brought a halt to long-distance ocean racing until 1923, when Transpac resumed again.

Most recent updates

WYC Transpac Nav Station

Last modified July 4th '97 1949 Hawaiian Time
Copyright © 1997, HoloHolo Internet Publishing, all rights reserved