THE BIG, THE BAD AND THE CHICKEN: 1986
During the 1986 Billabong Hawaiian Pro, pro surfers Gary Green and Bryce Ellis chose not to paddle out for their heat during a terrifying 25-foot swell at Waimea Bay. Another young pro, Rob Bain, did paddle out, and soon wished he hadn't. Bain got nailed by a 10-wave set, and barely made it to shore alive. Photo: Sato.
A FUNNY THING HAPPENED ON THE WAY TO THE WORLD TITLE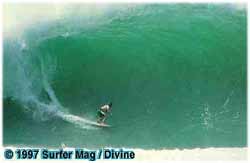 Tom Carroll is renowned for doing big things during the Triple Crown. But every once in a while, the powerful Australian would stumble in Hawai`i. The first time was in 1987, when he over-amped and caught 11 waves in a heat at Sunset Beach (you're only allowed 10), getting eliminated from a contest he was favored to win. The second miscue, a year later, had more dire consequences. In the second round of the Billabong Hawaiian Pro at Pipeline, while he was leading a three-way world title race with Damien Hardman and Barton Lynch, Carroll was charged with a boneheaded paddling interference. He was knocked from the heat, the event, and the world title race. Photo: Divine.
PIPELINE'S ONE-TWO PUNCH: 1983
Pipeline has never killed a surfer during a contest, but in 1983 it came very close. The first victim was a Florida surfer named Steve "Beaver" Massefeller. A fully credentialed North Shore surfer with lots of experience at Pipeline, Massefeller took what looked to be a standard wipeout during an early heat, but ended up being pulled from the water close to death with a fractured skull. Only minutes later, North Shore local Chris Lundy was pulled from the water with his lower leg turned completely backward. The injuries effectively ended both surfers' careers. Photo: Divine.
THE YEAR OF THE BIG FLAT: 1994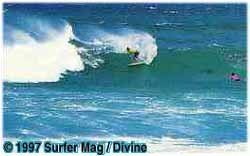 For all but a few years since 1983, the Triple Crown is where world titles have been decided. But in 1994, the ASP decided to hold the last contest of the year at Narrabeen, Australia. This schedule change meant Triple Crown officials had to squeeze the waiting period for their three events from 42 days to 24. The Pacific Ocean reacted to the shift by laying a giant egg. Conditions for most of the events were the worst in more than 25 years of Hawaiian competition. Photo: Divine.

Next Program Page