The sleepy, historic town of Hale`iwa has always been endearing to Hawai`i residents and visitors alike. Features such as false-front buildings, friendly faces and a rural pace all harken back to the Hawai`i of yesteryear. But as
Ocean Pacific kicks off the first event of the 1997 G-Shock Triple Crown of Surfing on Nov. 12, the town will be buzzing.

Now in its second year, the Op Hawaiian Pro at Haleiwa's Ali'i Beach Park kicks off the G-Shock Triple Crown of Surfing. Running Nov. 12-23, the event encompasses three divisions:

* The Op Pro Men's event, an ASP World Qualifying Series, 3-star contest with 132 competitors vying for $60,000 in prize money and valuable ratings points.

* The Women's Op Pro, offering $10,000 in prize money and, as the second-to-last event on the women's world tour, extremely valuable ratings points for 40 female competitors.

* The Op Junior, an amateur event offering $2,500 in scholarships to 32 of the world's best surfers age 19 and under.
---

In 1996, Ocean Pacific officials shocked the surfing world when they decided to pull their tent pegs from Huntington Beach, where they had staged the popular Op Pro for 14 years, and moved the event to Hawai`i. Not only does the contest now become a part of the Triple Crown of Surfing, but Ocean Pacific also returned to the site of its first professional surfing contest: Haleiwa.

From the days of Mark Richards through the reign of Tom Curren and on through Sunny Garcia and Kelly Slater, the Op Pro served up countless classic battles for California spectators.

But Hale`iwa has also served up its share of drama as a professional surfing venue for the Hawaiian Pro. Few who saw it will ever forget when Ross Clarke-Jones took a 15-foot lip on the head in out-of-control conditions in 1991. Tom Curren won his first pro event in Hawai`i at Hale`iwa the same year.

And Richie Lovett catapulted into the Top 44 with a darkhorse win in 12-foot surf there in 1995 .
---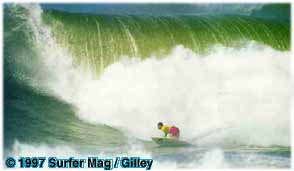 JOHNNY-BOY GOMES IN 1991 DURING ONE OF THE MOST IMPRESSIVE FINALS IN HALE`IWA HISTORY. PHOTO=ROB GILLEY.