23. Nathan Webster, 23,
Narrabeen, Australia

Unlikely surf star material. On land, he's quiet, gangly, almost awkward. In the water, he transmogrifies into a wild, air-busting maniac. "Noodle" still lacks experience in the world's best big-wave arena, but don't be surprised if he throws himself over the ledge.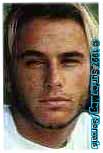 24. Shane Dorian, 25,
Kona, Hawaii

Another diminutive native Hawaiian who stands 10 feet tall in big surf. Could do well at any Triple Crown venue, but he particularly loves Pipeline. Look for him to go hard if it's big on Second Reef.

25. Jake Paterson, 24,
Yallingup, Australia

Raised in West Australia, where men are men and waves have power. Last year, his older brother Paul shocked the surf world by winning the G-Shock World Cup at Sunset Beach as a trialist.

26. Vetea David, 29,
Papeete, Tahiti

Profoundly at home amid the waves and people of Hawaii. Practically an adopted son. Fearless tube-charging skills, honed in the dangerous barrels of Tahiti. Loves the Triple Crown. Rides boards so thick they could float cows.

27. Richie Lovett, 25,
Manly, Australia

Introduced himself to the professional surfing world by winning the Haleiwa event in 1995. Focused competitor. Brings to mind the first generation of Aussie pro surfers on the North Shore: ready to charge with no thought to consequence.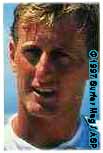 28. Jake Spooner, 25,
Bulli, Australia

A classic, carving style laced with flashes of inventiveness. Has yet to get the contest results to match his unquestioned potential. Still working on a competitive psyche and year-long focus. Could be dangerous at mid-size Sunset.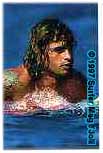 29. Peterson Rosa, 23,
Curitiba, Brazil

A cross between the Cookie Monster and the Tasmanian Devil. Turned pro at age 15, product of Brazil's fanatical embrace of the surfing lifestyle. Sometimes crude, but always effective.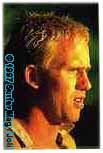 30. Pat O'Connell, 26,
Laguna Niguel, California

Infectious, hyper-active energy. Co-star of The Endless Summer II. Probably could be an actor or comedian or just about anything else he sets his mind to. Rides incredibly small and light boards, even in solid waves. Can always pull out something spectacular.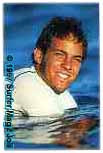 31. Shea Lopez, 23,
Indian Rocks Bch, Florida

A hot, young kid with all the tricks. Fast developing a solid act in big, hollow waves. Looked right at home at Grajagan this year. On track to finish in the top 10 this year. Could be the tour's most improved surfer.

32. Chris Gallagher, 29,
Santa Cruz, California

Pipeline crushed Gallagher two years ago, knocking him out of the water and the contest with a torn hamstring. He'd love to get some payback. Comes to Hawaii fortified by a second place in Pipeline-like conditions at this year's Quiksilver G-Land Pro.

33. Joca Junior, 28,
Ponta Negra, Brazil

A phenomenal aerialist and small-wave trickster. Has had to work hard on the more traditional lines required on the WCT. Already showing the benefits of keeping company with the Top 44. Hawaii looms as his next great challenge.