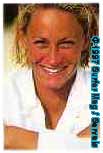 1. Lisa Andersen, 28,
Ormond Beach, Florida

The three-time world champ has had some success in Hawaii, but she has yet to bring her North Shore performance up to her very high standards. Andersen has taken women's surfing to its highest level ever, and Hawaii remains the one remaining benchmark for her to register in women's surfing. Lisa will most likely arrive in Hawaii with her fourth professional world title in the bag. Look for her to focus all her talent on winning a big one here.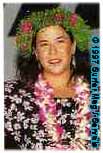 2. Pauline Menczer, 26,
Nimbin, Australia

At only 5'3" and 110 pounds, the little Aussie battler has blown minds and worried peers with her kamikaze takeoffs at Sunset Beach in previous winters. Pauline charges the North Shore boomers like an angry ant and is sure to be a pacesetter when the swells hit.

3. Layne Beachley, 24,
Newport Beach, Australia

One of the most focused competitors in women's surfing. Layne dominated in Hawaii last year, winning both events and finishing the season third in the world. But third isn't enough for this motivated competitor, and if the world title is up for grabs coming into Hawaii, look for Layne to be in the hunt.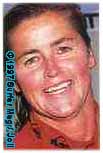 4. Neridah Falconer, 26,
Scott's Head, Australia

Some women are comfortable in Hawaiian surf, some aren't. Neridah Falconer feels right at home. She's comfortable in bigger waves. Her big, backhand hooks are a pleasure to watch and she has the grit to push her limits even further in the big stuff.

5. Trudy Todd, 21,
Coolangatta, Australia

Todd had a meteoric rise to the top ranks this year, and she's determined to close the season in Hawaii in the top three. Raised on the perfect point surf of Australia's Gold Coast, Trudy excels in quality waves and is fast developing a strong big-wave act. She can ride the barrels, and she knows how to make finals.

6. Rochelle Ballard, 26,
Koloa, Hawaii

Like Menczer in stature and bravado. At only 5'1" and 105 pounds, Rochelle Ballard is a woman who stands 10 feet tall in Hawaiian surf. She was born and raised in the quietly macho environment of Kauai and is dedicated to leading the way for the women in Hawaiian surf. Probably the best female tube rider on the planet.

7. Kylie Webb, 23,
Gold coast, Australia

A sharp and powerful competitor in small waves. Kylie has struggled to shake the big-wave monkey off her back. Confidence in Hawaii, and greater competitive discipline is all that stands between her and a world title.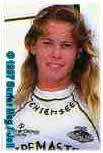 8. Lynette MacKenzie, 22,
Maroubra, Australia

First earned the attention of the surfing world when she made both Hawaiian finals at Haleiwa and Sunset in her debut appearance in 1994. One of the biggest talents in women's surfing, Lynette is more than capable of winning any event in Hawaii. Her mellow, cruisy nature doesn't adapt well to competition, but with a little focus, she has the ability to stake a serious world title claim.

9. Pam Burridge, 31,
Newport Beach, Australia

The former world champion made the women's Top 16 every year from 1981 to 1993, when she retired with a world title and 17 event wins to her credit. But retirement bored Burridge, and she came back in 1996 to quickly requalify for the women's World Championship Tour. She's a thoroughly seasonsed competitor who's capable of winning everything in Hawaii.

10. Serena Brooke, 21,
Caloundra, Australia

Athletic and powerful. Brooke made her first impression on the WCT when she won the 1996 Rip Curl Pro in Hossegor, France, in chunky 6-foot waves. Another member of the new generation of big-wave chargers. Made the semifinals at Sunset last year. Likes extreme sports and is determined to forge a place for herself in Hawaiian waters.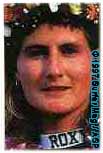 11. Melanie Redman, 21,
Dunsborough, Australia

From West Australia, one of the few surfing areas on earth that can compete with Hawaii for powerful, consistent surf. Redman is comfortable in Hawaiian surf and qualified for this year's Top 11 with a last-gasp second-place finish at the Roxy Quiksilver Women's Pro at Sunset at the close of the 1996 season. Capable of big upsets when it matters. Will be a danger this winter.