FOR IMMEDIATE RELEASE

The Scene of The Crime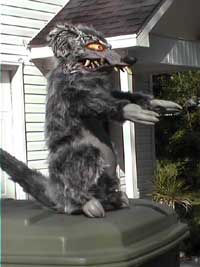 The Old South Marlin Club #2 will be returning to HIBT this year a wiser team. During a team meeting earlier this year, it was decided that due to the deplorable lack of security, and the resulting abduction of two successive mascots, a new approach was needed. Wanting to preserve the proud tradition and fine examples set by the two previous mascots, Rhett and Bubba, Old South #2 decided on a bold experiment. With the new genetic technology now available, they decided to create a new mascot using the DNA of Rhett and Bubba. Unfortunately, as many will remember, Bubba met with a tragic accident after he was abducted, so a small sample of his remains was utilized. It is speculated that Bubba s remains had been contaminated with some sort of radioactive medical waste, producing the monstrous rodent.
SEE EyeWitness Photos from The Scene of The Crime
We'll have lots more to report soon, but in the meantime - check out the HIBT Website,
with any luck at all you'll be able to see what's happnin..
And if you're REALLY interested, Check out The Action from 2000 and 2002 and 2010