*almost live means we're using a digicam and a laptop onsite,
in an effort to bring the show to the folks at home ASAP...
in most cases, the pix are uploaded within an hour or so after snap.
and tho we'd like to have all the boats come in when we can be there,
it doesn't usually work out that way - but we're trying!
Scroll down for the latest update

Finishing at 0919 HST, July 10th in The West Marine Pacific Cup,
Kirk & Jocelyn Wilson's Bay Wolf
with an unofficial elapsed time of....

ALOHA & CONGRATULATIONS on a fine race...
even if you were a bit late... ;)

Here they come!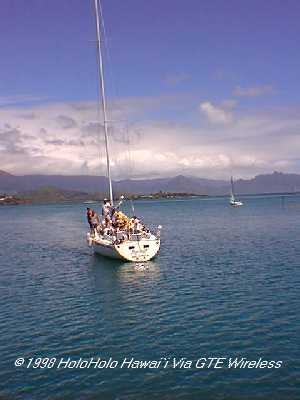 and there they is!....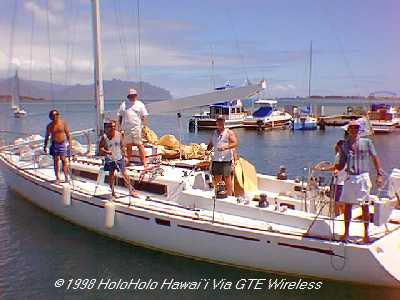 Bay Wolf tying upto Pyewacket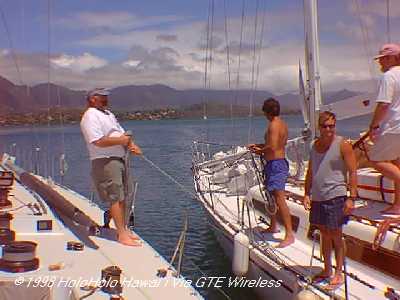 and LOOK who's aboard this trip!!! It's Linda Elias -
GLAD, VERY GLAD to see you on this one, Linda!!
since she didn't get to go with the rest of the Grrls,
last year in the TransPac 97 race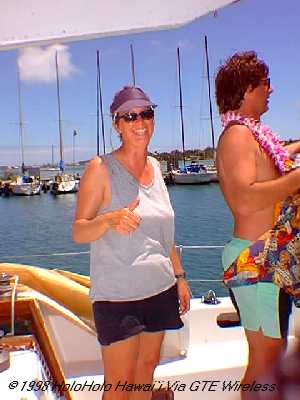 On go the Mai Tai's....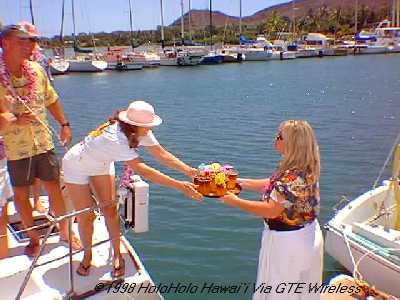 The Crew of Bay Wolf, PacCup 98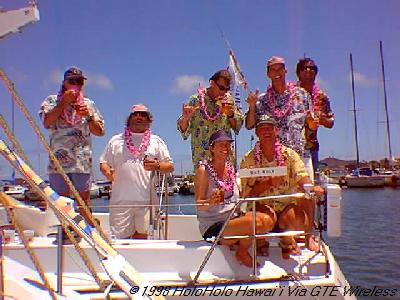 Nuff awready with the pix,
Bring on more Mai Tai's!!!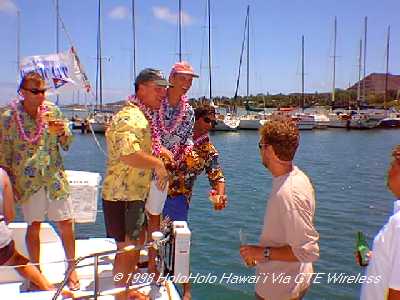 It's Sled City, here at KYC today, folks!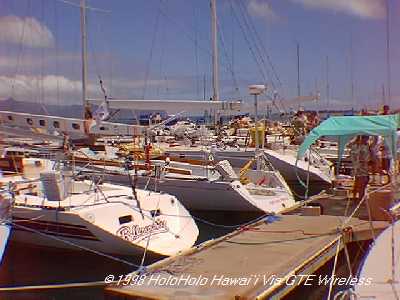 Hey!, where we gonna park all these boats, sez Cy Gillette...
don't ask, me - how'd I know they were all gonna bug-out so fast!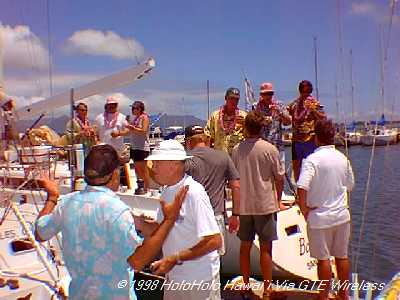 2500 miles and now they start argue'n about folding sails??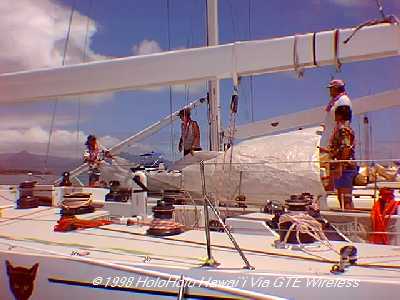 Stay tuned to this page for LIVE reports from Kane`ohe Bay!
Next "almost live" report: Coming up soon....

Note: Much higher quality prints of these pix can be had
Email your requests
---
"So You Wanna Have Some FUN?"
Long Term Mooring for Pacific Cup Participants

Hele On to Kaneohe Yacht Club
HoloHolo Hawai`i Ocean Sports News
Last Modified:19980710.1339 HST Fryday