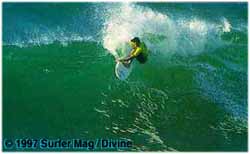 STICKER SHOCK: 1991
By 1991, Tom Curren had already won three professional and two amateur world championships. More important, he'd established himself as the most popular surfer of his time. But for all of his accomplishments, Curren had never won an event on the North Shore. In 1991, in the first event of the Triple Crown, the Wyland Galleries Hawaiian Pro at Haleiwa, Curren surfed in a star-studded final that featured two former ASP world champions, Tom Carroll and Martin Potter, along with ferocious Hawaiian competitor Johnny-Boy Gomes. Adding to the buzz, Curren rode the 8-foot surf on a surfboard free of sponsors' stickers, apparently making a statement about the separation of surfing as an art form and surfing as commerce. He drove his message home by winning with a last-minute wave that scored 9.1 out of a possible 10. Photo: Divine.
BARTON CLIMBS THE MOUNTAIN: 1988
In its 14-year history, the Triple Crown has provided an arena for incredible title finishes. With a few short-sighted exceptions (see Worst Moments), the Triple Crown is where surfing's professional champions are decided, and crowned.
In 1988, Australian Barton Lynch emerged from a three-way race (with Tom Carroll and Damien Hardman) to win the world title in epic Pipeline surf at the Billabong Hawaiian Pro. When it was over, Lynch's immense grin could be seen all the way to Kaua`i. He was the world champion against all odds, and he'd sealed it the way a goofyfoot dreams of sealing it: in epic surf at Pipeline. "Of the 16 contests I've won on the ASP tour, that's the one that stands out," Lynch said in 1992. "I could hardly surf for a year after that. I'd go, 'This is boring.' I felt like I'd climbed Mt. Everest, and now was building sand castles." Photo: Gilley.
HORAN THE BARBARIAN: 1989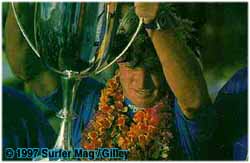 By 1989, Cheyne Horan, once the boy wonder of professional surfing, was a 14-year veteran of the World Tour, and his career appeared to be coming to a close. At age 29, he hadn't won an ASP event in five years, hadn't finished in the Top 16 in four. During the 1989 ASP season, however, Horan, staged a stunning comeback, capped by his victory at the Billabong Hawaiian Pro in difficult conditions at Sunset Beach. Horan earned $50,000 for the win, and catapulted to 14th in the year-end ratings, giving him an all-important Top-16 seeding and keeping his incredible career alive. Photo: Gilley.
More Greatest Moments