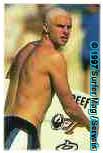 12. Conan Hayes , 22,
Kona, Hawaii

Has dumbfounded his peers with a run of improbably poor results in 1997. Keen to redeem himself in the waters of his home state. A nuggety powerhouse. Combines all the best elements of power and trick surfing.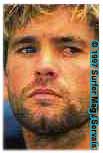 13. Michael Barry, 28,
Queensland, Australia

Small in stature, but with the heart of a whale. Has been a standout performer in the Islands since his first visit a decade ago. If the West peak at Sunset is pitching, look for Munga under the lip.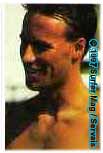 14. Shane Powell, 25,
Avoca Beach, Australia

Erratic talent. Capable of wild inspiration or lukewarm disinterest. Gave a glimpse of Hawaiian genius with some brilliant backside tube-riding during the 1994 Pipe Masters. But it's been a tough couple of years since. A big result in Hawaii would be sweet.

15. Jojo Olivenca, 29.
Guaruja, Brazil

The friendliest, happiest man on tour. Ever-smiling, Jesus-loving. Has a strong, upright style and a taste for belting lips. Though he has yet to prove himself in serious juice, his peers have learned to never underestimate him, even here.

16. Ross Williams, 24,
Haleiwa, Hawaii

A North Shore kid brought up on Island juice. Has had patchy results on tour, but capable of blowing minds in big surf or small. Overdue for a top placing, and there's nowhere he'd rather do it than home.

17. Victor Ribas, 25,
Barra de Tijuca, Brazil

A self-confessed small-wave specialist. It's a big leap from Brazil's small beachbreaks to the North Shore's explosive reefbreaks. But Ribas has something to prove--more to himself, perhaps, than anyone.

18. Guilherme Herdy, 23,
Niteroi, Brazil

Has been surfing for only eight years. Hard to believe he got so good so quickly. Loves the barrel. Continues to surprise with his focus, commitment and power-based style.

19. Derek Ho, 33,
North Shore, Oahu

Has won four Triple Crown titles--more than anyone. The four-time Pipe Master has been recuperating at home on the North Shore since suffering a serious knee injury at Grajagan in June. Says he'll be ready to go when the tour hits town. If so, look out.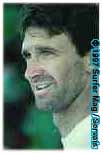 20. Barton Lynch, 34,
Manly, Australia

A 14-year tour veteran and 1988 world champ. Considered impossibly aged by many of his younger rivals. Yet eternally capable of pulling out a big performance. If Pipeline and Barton are in the right mood at the right time, don't be surprised to see him deep in the tube, in the final.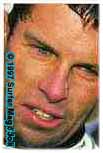 21. Damien Hardman, 31,
Narrabeen, Australia

Two-time world champion. Will be retiring at the end of this year. Sterling reputation, though he's never won an event in Hawaii. Would love to go out in style.

22. John Shimooka, 27,
Honolulu, Hawaii

A teen surf sensation, then dropped out of the tour several years ago. Two years ago, turned his life into an inspiring comeback story. Shmoo relishes every moment of his surf rebirth, and is actually getting better with age. Another Hawaiian who would love to perform in front of friends and family, and make them proud.